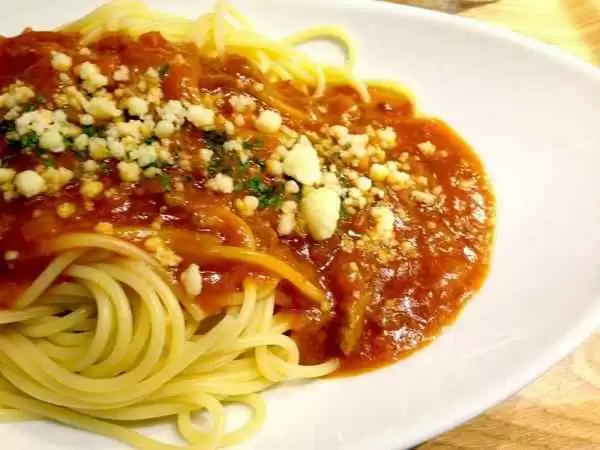 Caption: Image: CC--Bert Kimura
Celiac.com 07/14/2018 - If you're looking for a simple, nutritious and exciting alternative to standard spaghetti and tomato sauce, look no further than this delicious version that blends ripe plum tomatoes, garlic, olive oil, basil, and firm sliced ricotta to deliver a tasty, memorable dish.
Ingredients:
12 ounces gluten-free spaghetti
5 or 6 ripe plum tomatoes
¼ cup extra virgin olive oil
2 cloves garlic, crushed
¾ teaspoons crushed red pepper
¼ cup chopped fresh basil
2 tablespoons chopped fresh parsley
Kosher salt and black pepper
⅓ cup pecorino Romano cheese, grated
½ cup firm ricotta, shaved with peeler
Directions:
Finely chop all but one of the tomatoes; transfer to large bowl with olive oil and ¼ teaspoon salt.

Cook spaghetti until al dente or desired firmness, and drain, reserving ¼ cup cooking water. 

Meanwhile, chop remaining tomato, and place in food processor along with garlic, red pepper, and ½ teaspoon salt; puree until smooth. 

Gently stir mixture into the bowl of chopped tomatoes.

Add cooked spaghetti, basil and parsley to a large bowl.

Toss in tomato mixture, adding some reserved pasta water, if needed. 

Spoon pasta into bowls and top with Romano cheese, as desired.