Celiac.com 04/06/2010 - Spring has officially sprung. The long spring day's pave the way for beautiful spring flowers, gorgeous weather, spring cleaning,  and spring BBQ's! BBQ's are just as much fun for gluten-free diets as they are for everyone else. We can still enjoy grilling our food on the barbie, and washing it down with a cold one. Although there are some things you will want to know about gluten-free BBQing before you get too excited.
Gluten-Free BBQ:
If you use your BBQ grill for grilling gluten buns and gluten marinated meats, you will want to consider buying a new BBQ grill and dedicating it to your gluten-free foods only. However, if you share a grill with gluten containing foods and a dedicated BBQ grill is not an option, you will need to clean your grill thoroughly before each use and grill your gluten-free food before the grill is contaminated with gluten buns, meats, sauce drippings, etc. If you are a guest at a BBQ, and grilling your food on a clean grill first is not an option, or if you aren't sure if the grill is really clean, you might want to try using aluminum foil as a buffer between your food and the grill. Grilling your food on clean aluminum foil will keep the grill from contaminating your food. You will also want to make sure your food is not touched by any of the grill utensils that have touched gluten.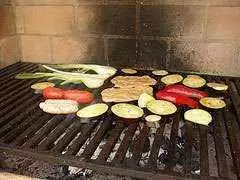 *Reminder: Always make sureyour work surfaces, utensils, pans and tools are free of gluten. Alwaysread product labels carefully. Manufacturers can change productformulations, and ingredients without notice. If you have doubt, do notbuy or use a product before contacting the manufacturer for absoluteverification that the product is definitely gluten-free.

If you don't have time to make your own marinade, there are gluten-free marinade options available.  If you do make your own BBQ sauce, be sure to use gluten-free ingredients. Here are some gluten-free sauces and ingredients to help you on your way.


*Tip:

Not all spices are created equal. While most spices are naturally gluten-free,  many spices have gluten added as a filler ingredient. Make sure your spices are gluten-free and check with the manufacturer if you have any doubts.

Gluten Free Finger Foods:
No BBQ is satisfying without finger foods. Make sure to bring your own finger foods to a BBQ & it's  always good to bring extra to share. Whenever I have taken gluten-free snacks to a party, my gluten-free snacks get eaten up before any of the other snacks. Whether it is the novelty of the gluten-free  snacks, I don't know. So if you want to enjoy the  snacks you bring-bring extra because everyone seems to love gluten-free snacks. There are many salty snacking options, but don't forget that healthy choices like celery and carrot sticks are naturally gluten-free, and they make a wonderful finger food.


Vegan Gluten-Free Garlic Hummus Dip

Ingredients:
1 can (16 ounces) gluten free chick peas or garbanzo beans¼ liquid from the can
3 tablespoons fresh squeezed lemon juice
1 ½ tablespoons tahini
5cloves garlic, crushed
½ teaspoon Himalayan salt
2 tablespoons extra virgin olive oil
SERVES 5 -10

Preparation:
Drain chickpeas and reserve 1/4 of a cup of the liquid. Place all ingredients in a blender and blend on low until smooth. This is a  basic recipe, but you can add your favorite  spices to  make whatever variation strikes your fancy.

Gluten-Free Alcohol:
What BBQ is complete without a cold beer or blended margarita to wash down all the yummy grub? While beer is typically made with wheat or barley and is therefore not gluten-free, in these modern times, we have more options than our celiac/gluten intolerant relatives ever drempt of. Today, we can find beer brewed with rice, sorghum, millet and other gluten-free grains. Sampling gluten-free beers before a BBQ or event will allow you to decide which beers you like so you know what to bring to the BBQ. I have included links below  to gluten-free beers world-wide, though many of the following beers can be found at your local grocery store. (Please note, not all beers on the following list are certified gluten-free. Some are from a dedicated facility, but all are gluten-free).

Gluten-Free Beers


Certified Gluten-Free Beer

s


Gluten-Free Dedicated Breweries




Distilled Alcohol:


It is a bit easier to accommodate gluten sensitivities with mixed drinks, as all distilled alcohol is naturally gluten-free. However, most drink mixers contain gluten. For a list of gluten-free alcohol and gluten-free mixers go here:

Gluten-Free Lemonade With Agave
Ingredients:

1/2 cup agave nectar syrup
1 cup water
10 leaves lemon verbena, slightly crushed in a mortar pestle
8 large lemons (organic if possible)
enough water to suit your taste buds

*Tip:

If you are looking for a kick, you can also use this as a mixer for alcoholic beverages.

Preparation:

To create the simple syrup, combine the agave and water to boil in a small saucepan
When the mixture has come to a boil, add the lemon verbena leaves
Turn off the heat and let the syrup sit on the stove top for half an hour
Refrigerate until cool
Making the lemonade: Juice the lemons as much as possible
Add the lemon verbena syrup to the lemon juice
Add water, in small batches, until the lemonade tastes the way you like to drink it
Serve over ice and garnish with a leaf of lemon verbena
Serves 4

Gluten-Free Quick Check:
Use a gluten-free dedicated BBQ whenever possible
Keep all gluten-free food separate from gluten containing food
Make sure your spices, dips and drinks are all gluten-free
Check all labels
Contact manufacturers whenever necessary
Keep your hands clean
Enjoy!