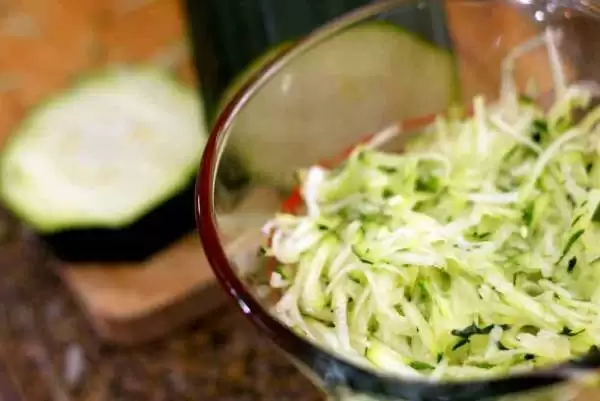 Caption: Image: CC--psrobin
Celiac.com 05/11/2019 - Zucchini is one of the early stars of spring, and this delightful recipe allows zucchini to shine. This simple blend of shredded zucchini, potato starch, eggs, and a bit of Parmesan cheese gets a quick fry in oil. A dollop of sour cream and a pinch of chives rounds them out. Perfect for spring, and even more perfect for sharing, these crispy, salty zucchini fritters will be the standout dish at your next meal. 
Ingredients:
4 medium zucchini, grated 
¾ teaspoon kosher salt, divided  
⅓ cup potato starch, or tapioca flour
⅓ cup grated Parmesan cheese 
2 large eggs, lightly beaten 
2 garlic cloves, finely chopped 
3 tablespoons cooking oil 
4 tablespoons sour cream 
3 tablespoons finely chopped fresh chives
---
Celiac.com Sponsor (A12):


---
---
Celiac.com Sponsor (A12-m):


---
Directions:
Heat oven to 250°F. 

Stir together zucchini and ¼ teaspoon of the salt in a large wire-mesh strainer set over a large bowl. 

Let stand until zucchini has released water, about 15 minutes. Discard liquid. 

Place zucchini in a kitchen towel, and squeeze to remove excess water. Add zucchini to a large dry bowl.

Add potato starch, Parmesan, eggs, and garlic to bowl with zucchini; stir until combined.

Heat 1 tablespoon of the olive oil in a large nonstick skillet over medium. 

Add 1 heaping tablespoon zucchini mixture to skillet, and use a spoon to flatten into a 3-inch round. 

Repeat to make more fritters. 

Cook about 2 minutes, until golden brown and slightly crisp. 

Flip and cook another minute or so, until bottom side is crisp and golden. 

Place cooked fritters on a large baking sheet lined with a wire rack.

Move rack to a warm, 250°F, oven.

Working in batches, cook the remaining fritters. Place on rack as you go.

When done, sprinkle cooked fritters with remaining ½ teaspoon salt. 

Top with sour cream and chives, and serve warm.