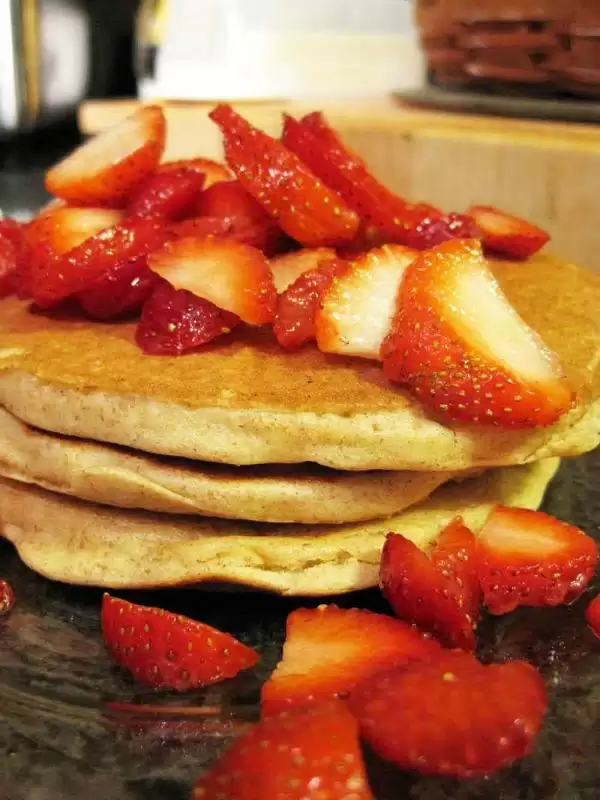 Caption: Image: CC--Julie Magro
Celiac.com 03/24/2018 - This fresh twist on traditional pancakes should bring more than a few smiles of appreciation to your hungry eaters. If you have your own recipe for gluten-free pancake mix, then feel free to use it. I generally use Bob's Red Mill Gluten-Free Pancake Mix prepared with buttermilk in place of regular milk. In this case, we toss in some cream cheese for extra richness.
Ingredients:
2 cups Bob's Red Mill or other Gluten-Free Pancake Mix
8 ounces fresh strawberries, hulled and halved
4 ounces cream cheese, softened
2 large eggs
¾ cup strawberry preserves
2½ cups quality buttermilk
1 tablespoon granulated sugar
1½ teaspoons vanilla extract
½ teaspoon finely grated lemon zest
3 tablespoon butter 
Confectioners' sugar for garnish, as desired
---
Celiac.com Sponsor (A12):


---
---
Celiac.com Sponsor (A12-m):


---
Directions:
In medium bowl, microwave preserves on high 1 minute or until melted. Stir in strawberries; set aside. 

In large bowl, whisk pancake mix, baking powder and salt.

In another large bowl, with mixer on low speed, beat buttermilk, eggs, granulated sugar, vanilla and zest until combined. Add cream cheese in chunks. 

Beat until cream cheese is well mix, but still a bit lumpy.

Add buttermilk mixture to bowl with dry ingredients. If batter is too dry, add buttermilk as needed. If to wet, add more dry mix.

Stir gently until lightly mixed. It's okay if it's a bit lumpy.

Grease a 12-inch skillet with 1 tablespoon of butter on medium heat. 

When pan is hot and foam from butter subsides, add batter by heaping quarter-cupfuls. 

Cook 2 to 3 minutes or until bubbles begin to appear and edges are set. Turn and cook another 2 minutes or until bottom is golden brown. 

If desired, transfer cooked pancakes to baking sheet in 225°F oven to keep warm. 

Cook remaining batter in batches, adding more butter as needed. 

Serve pancakes topped with strawberry mixture and dusting of confectioners' sugar.