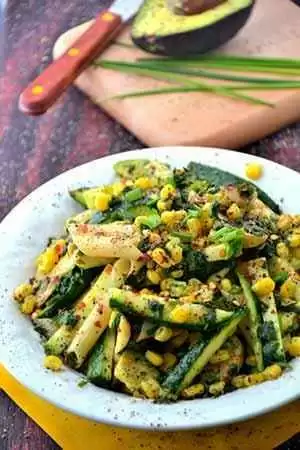 A perfect dish for your summer BBQ or picnic!
Gluten-Free and Vegan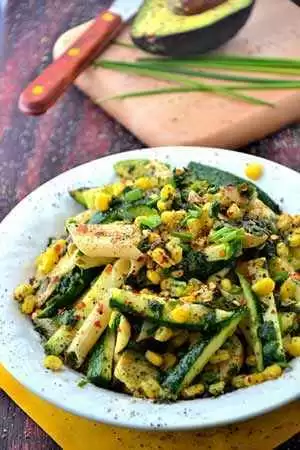 Ingredients:
1/2 pound gluten-free penne pasta
3 large zucchini, thinly sliced crosswise
4 baby portabello mushrooms, thinly sliced
1 (10oz.) package frozen corn kernels, thawed and drained
4 cups fresh spinach
2 tsp. grated lemon zest
2 Tbsp. lemon juice
2 Tbsp. extra-virgin olive oil
2 chives, finely chopped
¼ tsp. chili powder
½ tsp. sea salt
¼ tsp. freshly ground black pepper
Instructions:
In a large pot of boiling salted water, cook pasta according to package instructions. Drain pasta, transfer to a large bowl, and toss with zucchini, mushrooms, corn and spinach. Set aside.
In a small mixing bowl, combine lemon zest, juice, olive oil, chives, red pepper, sea salt and black pepper; whisk well to combine.
Pour olive oil mixture over cooked pasta mixture; gently toss to combine.
Transfer to a serving bowl and serve immediately or cover and store in the refrigerator until ready to serve.
Serve chilled or at room temperature.