Caption: Photo: CC--Stopwatch Test
This article originally appeared in the Winter 2004 edition of Celiac.com's Journal of Gluten-Sensitivity.
Celiac.com 09/25/2014 - Every year, life seems to get more hectic.  There is never enough time to get the things done on the ever-growing "to-do" list, let alone find time to relax.  Then you are diagnosed with celiac disease and suddenly realize you can no longer stop at Subway for a hoagie sandwich on your way home.  You get a sinking feeling in the pit of your stomach as you acknowledge that you will have to actually cook most of your own meals at home!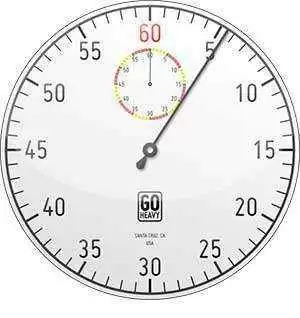 There is no need to panic.  There are many shortcuts that can help you get in and out of the kitchen faster.  Here are just a few:
Make a list of all the items you buy at the grocery store.  Make your list very specific, organized by aisles at the store.  Print off multiple copies.  As you run out of things during the week, put a check mark next to the item on your list.  When it is time to go shopping, most of your list will already be done.
Keep a "basic pantry."  These are items you should always have on hand.  Not only does this include spices, household cleaners, paper products, and canned goods, but a back-up pantry meal is always good to stock as well.  This can be anything from cans of beans for a bean salad, gluten-free pork and beans or a can of tuna fish, to gluten-free spaghetti and gluten-free spaghetti sauce.
Make extras.  If you are making soup, chili, spaghetti sauce, marinated chicken breasts, cookie dough, etc., make two or three times the quantity you need; freeze the extra portions so you have meals that just need to be popped into the microwave on the days you don't have time to cook.
Use disposable foil cookware for those really messy recipes.  Also, dish out dinners in the kitchen, from pot to plate; that way, you won't have serving dishes to wash.
Soak whole potatoes in hot water before baking them—they will cook much faster.  When potatoes need peeling, peel them after they are cooked when they are cool enough to handle and the skins will slip right off.
Use leftovers to make a different meal.  Open a bag of ready-to-use lettuce and top it with last night's leftover corn, taco filling, diced tomatoes, and sprinkle with gluten-free cheddar cheese.  Or top the salad with thin slices of the leftover roast beef, diced leftover asparagus spears…you get the idea.  You can also chop leftovers into bite-sized pieces and place them in a resealable freezer bag, and the next time you have leftovers toss them in.  When the bag is full, open a large can of gluten-free chicken or beef broth, add the contents of the bag, and voila—you have Recycled Soup!
Save the crusts.  If you can't get the kids to eat their crusts, trim them from their bread and store them in a resealable freezer bag (gluten-free bread is too expensive to buy and too time-consuming to make to throw out the crusts!).  When the bag is full, let the crusts dry out for 24 hours, then run them through a food processor or blender, adding spices like dried parsley, garlic powder, paprika, and/or Italian seasoning, and make breadcrumbs.
Use a crock pot.  There are many meals that can be made in crock-pots, such as the recipe that follows.  Cut up your leftover veggies and meat from the night before.  You can also cut up potatoes ahead of time and soak them in cold water in the refrigerator.  In the morning, layer everything in the crock pot, add some liquid (gluten-free barbecue sauce, gluten-free spaghetti sauce, tomato sauce, gluten-free broth, or salsa), turn the temperature to low or slow cook, and eight hours later your meal is ready.
With a little practice and planning, you can enjoy healthy, quick, gluten-free meals.  Planning ahead is the key to saving time.  Plan your meals for the week, including how you are going to use up the leftovers.  There definitely is time for "life after cooking" on a gluten-free diet.  You can find more quick meal ideas in my book, Wheat-free Gluten-free Cookbook for Kids and Busy Adults.