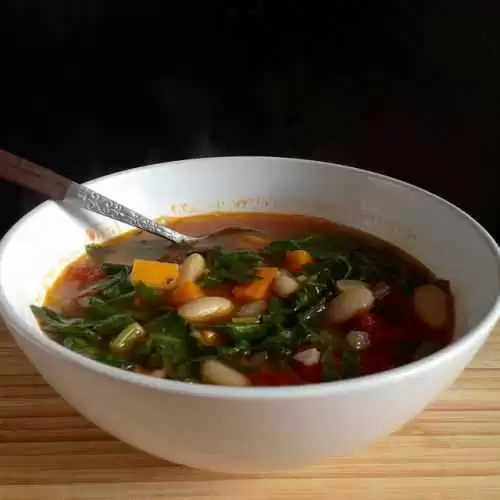 Caption: Gluten-free Tuscan soup makes a great winter meal. Photo: CC--Joy
Celiac.com 01/13/2018 - To you and me, it may be Tuscan Soup, but to the sonorous, lyrical Italians, it is known as Zuppa Toscana. Whatever language you speak, it means a warm, satisfying and delicious meal.
Ingredients:
1 pound mild Italian sausage
1 can white or navy beans, drained
2 quarts chicken broth
6 potatoes, sliced thin
1 teaspoon crushed red pepper flakes
6 slices bacon, cut to ½ inch strips
1 large onion, diced
4 cloves garlic, minced
1 cup heavy cream
¼ bunch fresh spinach, washed, with stems removed
---
Celiac.com Sponsor (A12):


---
---
Celiac.com Sponsor (A12-m):


---
Directions:
Heat a stock pot over medium heat.

Add the Italian sausage and red pepper flakes and cook until well-browned, and no longer pink, 10 to 15 minutes. Drain and set aside.

Cook the bacon in the same stock pot over medium heat until crisp, about 10 minutes. Drain bacon fat, leaving a few tablespoons of drippings with the bacon in the bottom of the pot.

Stir in the onions and garlic; cook until onions are soft and translucent, about 5 minutes.

Pour the chicken broth into the pot with the bacon and onion mixture; bring to a boil over high heat.

Add the potatoes, and boil until fork tender, about 20 minutes.

Reduce the heat to medium and stir in the heavy cream, the cooked sausage, and the beans, and heat well.

Mix the spinach into the soup just before serving.