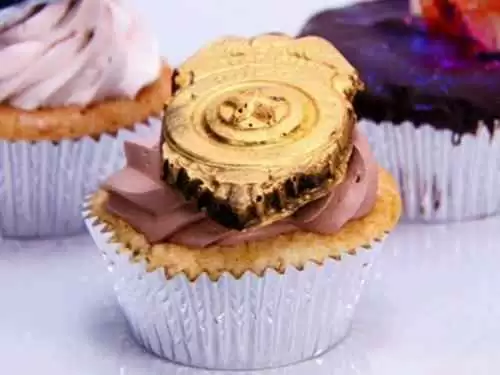 Celiac.com 02/29/2012 - Gluten-free confections created by a baker from Lake Oswego, Oregon, topped the competition on the latest installment of the Food Network's "Cupcake Wars."

The winning gluten-free cupcakes were the work of Kyra Bussanich, 33, who opened Crave Bake Shop at 460 Fifth Street, in downtown Lake Oswego, in mid-2011.
Bussanich, is the first gluten-free baker to win the show's top spot, producers told her. She is also the only Pacific Northwest resident to win the competition.
The show's theme celebrated the 100th Episode of the TNT television series, "The Closer," starring Kyra Sedgwick. Bussanich responded with intricately decorated, coffee and doughnut-themed cupcakes to honor the cop drama.
As a part of her $10,000 prize, Bussanich and her assistant Jackie Eizik, catered a party for Sedgwick and other cast and crew from "The Closer." Bussanich says that her victory in "Cupcake Wars" provides a stage not only for her online shop, but for gluten-free foods in general. She herself doesn't tolerate the wheat and other proteins so central to most baked goods, she rejects the idea that being gluten-free means eating blandly. "Gluten-free can be divine," she says.
"Cupcake Wars" will appear in the coming weeks on the Food Network.
Read: Kyra Bussanich's winning recipe for Boston Cream Pie cupcakes from Food Network's The Closer 100th Episode.
Source: