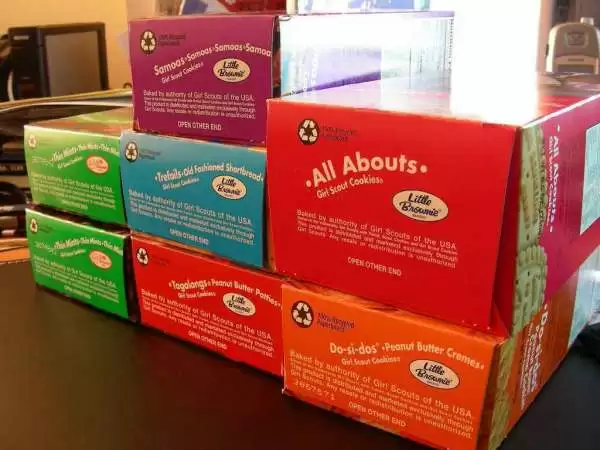 Caption: Brutal honesty helps Girl Scout crush cookie sales record. Photo: CC--JayJayOh
Celiac.com 03/28/2017 - A savvy Girl Scout from New Jersey is close to selling more cookies than anyone in history thanks to her brutal reviews of the sweet treats that have gone viral.
Employing brutally honest cookie reviews, skilled networking and aggressive sales tactics, 11-year-old Charlotte McCourt set a new Girl Scout cookie-selling world record by selling 21,477 boxes of cookies, shattering the 35 year old previous record.
For example, Charlotte rated the gluten-free Toffee-tastic cookies a 1, calling them a "bleak, flavorless gluten-free wasteland." She also slammed Do-si-dos as "unoriginal."
She did praise Samoas, the crisp cookie with shredded coconut, caramel and chocolate, rating them a 9.
The wealthy pal, who was revealed Wednesday to be Colorado-based venture capitalist Jason Mendelson, was blown away when he received the sales pitch from McCourt.
Mendelson, childhood friends with McCourt's father, Sean, was sold on her pitch, immediately buying 25 boxes and donating them all to the military.
"As I'm reading her plea, all I can think is, 'My God, I'm a venture capitalist. I get pitched 30 to 40 times a day. This is an 11-year-old telling me exactly what she wants. There's no beating around the bush,'" he told The Post. "It is a master class on sales," he added.
Later, Sean's boss, TV personality Mike Rowe, shared the email with his Facebook followers, reading it and cracking up at the gutsy critique. Rowe's video, called "Truth In Advertising!" was uploaded Jan. 25 and has received over 8.4 million views, and triggered thousands of cookie orders for McCourt.
Read more at: GoodNewNetwork.org