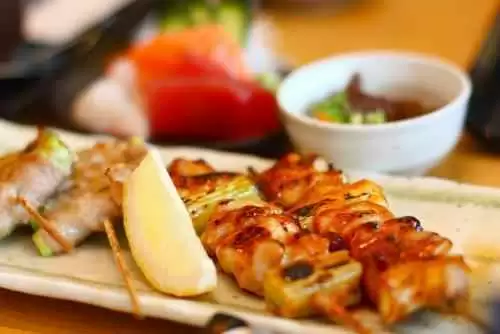 Caption: You can serve yakitori with sauce, or with no sauce, and just salt, as desired. Photo: CC--Wenjie Zhang
Celiac.com 11/09/2017 - Don't let the foreign sound turn you off. 'Yakotori' is just a Japanese term for grilled chicken on skewers. And what could be more familiar and family friendly than grilled chicken on skewers?
In Japan, yakitori is commonly eaten as a snack with beer or other alcohol. However, when served with rice and other dishes, it can also form the base of a proper dinner. Yakitori is best cooked on a grill or over coals, but you can also do it in a frying pan. You can serve yakitori with sauce, or with no sauce, and just salt, as desired. They go great with your favorite gluten-free beer.
---
Celiac.com Sponsor (A12):


---
Ingredients:
1 pound chicken thigh meat
½ cup gluten-free soy sauce
¼ cup sugar
¼ cup sake
¼ cup mirin
6-8 green onions)
vegetable oil
salt
Directions:
Soak 6-inch bamboo skewers in water for about 30 minutes.
Mix soy sauce, sugar, sake, and mirin in a small pot, and boil for 8-10 minutes until the sauce gets a little thick. Remove from heat and set aside.
Cut chicken thighs into 1" cubes, and cut scallions into 1" long pieces (use thicker parts). Place alternate layers of chicken and scallions onto the skewers.
Spread oil thinly in a frying pan, and heat to medium.
Cook skewered meat at medium high heat for 5 minutes. Turn and cook another 5 minutes until browned and cooked through.
For Yakitori with salt, skewer just chicken pieces and sprinkle with salt. Cook, and serve with no sauce.
For yakitori with sauce, dip cooked chicken in the sauce, and serve.
Rice, miso soup, and a small salad make for a great meal. Gluten-free beer is optional.