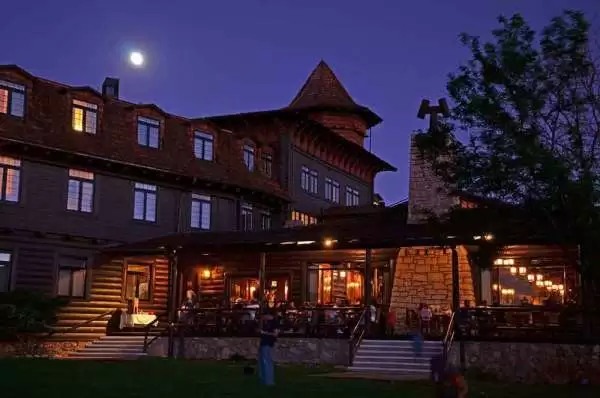 Caption: El Tovar Hotel in Moonlight. Image: CC--Grand Canyon Nat. Park
Celiac.com 04/23/2019 - A bowl of French Onion soup at Grand Canyon's El Tovar Lodge contained hidden gluten that left a Los Angeles artist with a "permanent" injury, claims a recently filed lawsuit.
As a result of an adverse reaction to the soup, Todd Serlin is suing Grand Canyon's concessionaire, Xanterra, for more than $100,000, according to the suit, now in federal court.
Serlin has celiac disease, and is "extremely careful" not to eat anything with gluten. The autoimmune condition causes problems in the small intestine when gluten, a molecule in wheat products, is consumed. 
Serlin claims he "asked the waitress to confirm with the chef that there was no gluten in the base of the soup," and Serlin the chef confirmed the soup was gluten-free, the suit says.
After eating the soup, Serlin then ordered a duck entree with rice and vegetables.
According to the suit, Serlin became ill an hour or two later: "His symptoms intensified into waves of nausea, radiating abdominal pain, a migraine headache, vomiting, and then diarrhea. It was later determined that the restaurant served Todd food that contained gluten."
The suit claims that Serlin "suffered severe and permanent personal injuries" from the experience, and "will continue to suffer, for an indefinite time, great pain, suffering, significant discomfort, and a loss of quality of life."
Serlin is represented by the Scottsdale law firm Hymson Goldstein Pantiliat & Lohr, PLLC. The original suit was filed in Coconino County Superior Court in early March, but the case was moved to federal court.
What do you think? Legitimate complaint, gross over-reaction, or right on the money? Share your thoughts below.
Read more at: phoenixnewtimes.com