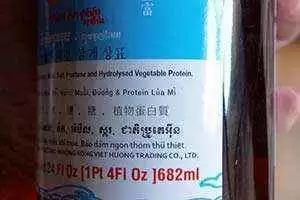 Caption: Photo: CC--Andrea_Nguyen
Celiac.com 03/06/2013 - The hallmark of a healthy gluten-free diet is a grocery cart filled with mostly unprocessed, single-ingredient foods such as fresh produce, nuts, and meat. This is the easiest way to avoid gluten, as well as the healthiest way to eat. When you do venture into the central aisles of the grocery store, look for gluten warning signs on packaging to help you identify foods that contain gluten.
Looking for those warning signs is more important than ever because companies are catching on to the growing popularity of gluten-free diets and many are labeling their products gluten-free. However, the U.S. Department of Agriculture (USDA) does not regulate how or when the designation of gluten-free can be added to food labels. This clouds the decision-making process for people with gluten intolerance that rely on gluten warning signs on packaging to guide them. Without USDA regulation, even products labeled gluten-free may still be processed on equipment that also processes gluten. While this is not a problem for people eating gluten-free as a dietary choice, it can cause issues for people who are gluten intolerant.
---
Celiac.com Sponsor (A12):


---
---
Celiac.com Sponsor (A12-m):


---
Ingredient Keywords
Look for warning signs at three places on the ingredient label. The first is underneath the ingredients list, where common allergens such as soy and milk are listed in bold. If wheat is listed there, the product contains gluten.
The second place to look is the ingredients list itself. The following words may be signs of gluten due to its nature or to cross-contamination:
Wheat
Malt
Wheat starch
Barley
Oats
Soy sauce (made with wheat)
Even seemingly innocuous products may still contain gluten, so it's important to look at all product labels. For example, yogurt and other dairy products sometimes have gluten-containing thickening agents, many sauces and soups contain gluten, and beer is made with barley hops. 
The third place to look for gluten warning signs on packaging is at the bottom of the ingredients list. In bold, the packaging will declare whether or not the food was processed on equipment that also processes common allergens, including wheat. Cross-contamination can still cause flare-ups, so these foods should be avoided.
Safest Foods
The best way to avoid gluten is to stick to unprocessed, fresh produce and meat. With grains and processed foods, the best way to stay safe generally is to opt for minimally processed foods with few ingredients, or specialized foods. Strategies for gluten-free shopping include: 
Foods in the health aisle or in a natural food store are most often accurately marked as gluten-free.
Cook what you can at home and take the mystery out of ingredients. Gluten-free bread, for example, can be made at home using the flour of your choice.
Do research before shopping - it can save you time and trouble in the long run.
While reading food labels may seem intimidating at first, after a few shopping trips, you will be a pro at identifying problem foods and cooking gluten-free, while still eating a healthy range of foods.