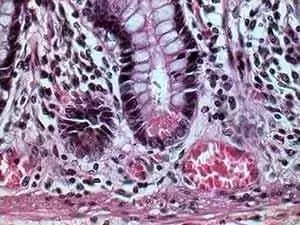 Celiac.com 05/16/2012 - Goblet cells that line the intestine and secrete mucous are emerging as a possible target for treating inflammatory bowel disease, celiac disease and food allergies.

With every meal, immune cells in the intestine stand guard against harmful bacteria but permit vitamins and nutrients to pass. The small intestine is protected from harmful pathogens by a layer of mucus secreted from goblet cells.
The discovery of goblet cells in mice shines new light on their role in the lining of the intestine, and gives scientists a potential target for treatments against inflammatory bowel disease, celiac disease and food allergies.
To accomplish their task, the researchers used a new imaging technique that allows them to observe the inner workings of the intestine in a living mouse in real time. For their study, they fed marked sugar to mice and observed antigens as they were passed by goblet cells to dendritic cells.
Dendritic cells play a key role in the immune system. But until now, scientists thought that intestinal goblet cells were only responsible for secreting mucus.
Miller and Newberry also studied healthy human intestinal tissue from patients undergoing weight-loss surgery.  Those results showed that goblet cells perform the same function in people as in mice. This indicates that the cells may be solid drug targets for treating inflammatory bowel disease and other intestinal problems.
After studying normal, healthy mice, the researchers are now using the same imaging technique to look at how goblet cells and dendritic cells might function differently when inflammation or infection occurs.
They also plan to study mucus-producing goblet cells in other tissues, such as the lung, to assess whether they are working the same way elsewhere in the body.
Miller says the results are important because they help scientists understand that intestinal immune responses may depend as much on the ability of goblet cells to transport antigens to dendritic cells as on what the dendritic cells then do with those antigens.

Source: