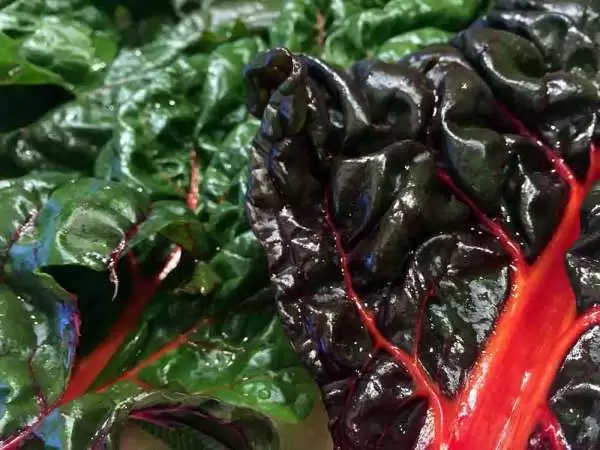 Caption: Swiss chard. Image: CC BY-SA 2.0--BierDoctor
Celiac.com 09/14/2019 (Originally published 04/05/2010) - Spring is finally here.  It's time to think of warmer weather, green buds on trees, green blades of grass poking through the straw-like landscape… think green.  Think green about your food, too.  
Researchers claim that green vegetables promote good colon health and are good for the heart.  They provide folic acid to pregnant women to help prevent birth defects.  And greens in the kale family contain as much calcium as milk.  They help balance all the sodium in our diets by providing healthy potassium.  Age-related macular degeneration is a leading cause of blindness among individuals over the age of 50.  A research study in Massachusetts found that people who ate spinach, collards, and other dark green, leafy vegetables five or six times a week had 43% lower risk of the disease than those who ate it less than once a month.  And finally, green foods are loaded with antioxidants, minerals, and flavonoids.  
---
Celiac.com Sponsor (A12):


---
---
Celiac.com Sponsor (A12-m):


---
So how do you go about presenting green foods in enough different ways and with enough appeal to satisfy your family's taste buds?  First, learn how to cook each vegetable for peak presentation and nutrition.  Then, concentrate on fun ways to incorporate "green" into your meal planning.  The typical refrigerated shelf life for most leaf vegetables is ten to twelve days.

When cooking broccoli, steam it to keep the green color and to retain all the nutrients.  If you don't have a steamer, put the broccoli in a colander and suspend it over a pot of boiling water for a few minutes.

Steaming leafy greens (spinach, kale, Swiss chard) destroys the chlorophyll and will leave you with a messy gray wad.  Precook leafy greens by boiling in water for 3 to 10 minutes then drain and season.  Or sautéed in a little oil with some red pepper seeds and garlic.

Cabbage can be added to soups, casseroles, stews, stir-fries.  It can be rolled and stuffed, shredded for coleslaw, or eaten steamed with steamed potatoes.  

Leave the skin on zucchini for added fiber.  Shred the zucchini into meatloaf, scrambled eggs, and muffins.  This is a great vegetable to grill, or brush it with oil, sprinkle with seasoned breadcrumbs, then bake or broil.  

When selecting asparagus, thin spears are more tender than the thicker ones.  Steam them lightly so they're still tender-crisp, or brush lightly with oil and grill or broil.  Sprinkling cooked asparagus with a little Parmesan cheese will enhance their flavor even more.

Peas don't need much boiling time, nor do green beans.  When using frozen peas in a salad, you can just rinse them off under warm running water and not even bother pre-cooking them.

Swiss chard and beet greens are delicious boiled, drained, then tossed with a little olive oil and vinegar.

There are so many novel and delicious ways to incorporate more greens into your diet…

Restaurants are now offering "lettuce wraps".  You're served a dish of large lettuce leaves along with bowls of fillings and you create your own lettuce wrap.  You can do the same thing at home using romaine lettuce leaves.  Bread isn't a necessary ingredient to make a fun and luscious sandwich.  Fillings can vary from fajita (julienned veggies often with sautéed strips of beef or chicken) or a salad filling (egg, tuna, chicken, salmon, or ham salad) to a Mediterranean veggie filling of sautéed zucchini, mushrooms, onions, green pepper, kalamata olives, feta cheese, all sprinkled with Italian seasoning.

Create your own pizza by doubling the amount of green pepper.  Or leave off the pasta sauce and brush your pizza crust with olive oil, sprinkle with Italian seasoning, then top with chopped spinach or sautéed zucchini slices, roasted red peppers, and crumbled feta cheese.

Vegetable soup can be a virtual pot of greenery!  Stir in chopped spinach and mustard greens, peas, cut green beans, shredded cabbage, chopped kale and argula, shredded zucchini, and chopped parsley.

Are you making gluten-free macaroni and cheese?  Stir in peas and/or green beans.  Pasta?  Stir shredded zucchini into the marinara sauce or skip the sauce and just toss the pasta with sautéed chopped spinach and a little minced garlic.  .  

Sometimes you just have to munch on something.  Have a container of hummus or ranch dressing close by to dip broccoli florets, celery and cucumber sticks, and strips of green pepper.

Quiche is a great for hiding greens.  You can fold in chopped broccoli, spinach, artichokes, and/or asparagus tips.

Stir-fry broccoli florets, snap peas, bok choy, celery, fresh baby spinach, and parsley; add a little gluten-free soy sauce and serve over rice.

Put fresh parsley in everything.  It adds color, flavor, and nutrition.  It also helps keep your breath fresh.

Another "green" you may not think of is green olives.  Their oil doesn't clog arteries and green olives can be added to salads, antipastos, salsa, Bruschetta, sliced on top of pizza, or simply marinated and enjoyed alone.

Don't overlook green herbs.  Fresh mint is a glorious addition to salads, pesto, meatballs, peas, and iced tea.  

The darker the green, the healthier it is for you.  So mesclun greens (often called spring mix), and baby spinach have more nutrition than iceberg lettuce.  Dark green vegetables are high in fat-soluble vitamins A, K, D, and E.  These vitamins require a little bit of dietary fat in order for the body to absorb them, so add a little olive oil when preparing the greens to make sure your body absorbs all of the vitamins you are eating.
Spinach Mandarin Salad (Gluten-Free)
This recipe is from the book "Gluten-Free Cooking for Dummies"
Ingredients:
¼ cup pine nuts
2 tablespoons orange juice
1 ½ tablespoons balsamic vinegar
2 tablespoons olive oil
1/8 teaspoon salt
1/8 teaspoon pepper
2 teaspoons honey
½ teaspoon brown mustard
4 cups fresh baby spinach leaves
¼ red onion, sliced thin
1 can (15 ounces) mandarin oranges, drained
Directions:
Place the pine nuts in a small skillet that has been sprayed with nonstick spray. On medium-high heat, toast the nuts, stirring frequently, until they are lightly browned. Remove pan from heat and cool. In a large bowl, whisk together the orange juice, vinegar, oil, salt, pepper, honey, and mustard. Add the spinach and toss until evenly coated. Add the onion, oranges, and pine nuts then toss to distribute evenly. Serves 4.