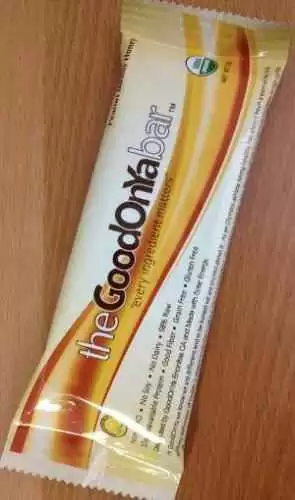 There are countless 'health' food snack bars and protein bars on the market, many of which aren't as healthy as their makers would have you think. On the other side of the spectrum, you have snack bars that are loaded with various superfoods and are really quite nutritious, but taste like cardboard. The Peanut Butter Honey GoodOnYa bar is what I would call a perfect middle ground – it is rich and flavorful, but filled with highly nutritious organic ingredients. Even better, it's not only gluten-free, but completely soy-free, dairy-free and grain-free as well.

When I need a quick snack on the go, I usually go for fruit and a container of yogurt, which I feel is enough of an indulgence. After trying this peanut butter GoodOnYa bar though, I am seriously considering adding it to my morning routine. I adore peanut butter, and in this context, I don't have to feel bad about eating it. These are high quality organic peanuts that are tested by a third party for mold and bacteria (peanuts have gotten bad press over these issues in the past). These peanuts though, are just a rock-solid source of protein and vitamin E.
---
Celiac.com Sponsor (A12):


---
---
Celiac.com Sponsor (A12-m):


---
This is a truly fillerless bar. Rather than grains, soy or corn, they've included a collection of superfood seeds: organic sprouted flax seeds and organic raw sesame and hemp seeds. These are all low GI 'slow burners;' the end result is a bar that fills you up and gives you energy without a sugar crash.

The people at GoodOnYa have crafted a snack/protein bar with real integrity. It's deliciously peanut-buttery, and full of things that your body will eventually thank you for. Highly recommended!

For more information, visit their website.

 

 

 

 

Note: Articles that appear in the "Gluten-Free Food Reviews" section of this site are paid advertisements. For more information about this see our Advertising Page.