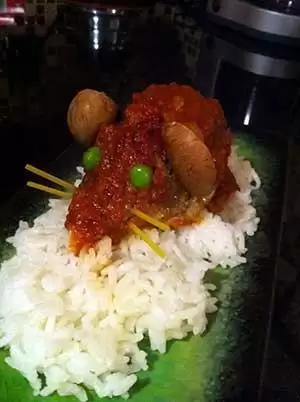 Caption: The finished gory bloody baked rat. Photo: Jefferson Adams
Want to shock and delight the kids with a little Halloween culinary gore? These bloody baked rats are just the ticket! They are basically creatively shaped meatloaf with a twist. They're easy to make, and sure to draw some excitement at the dinner table.
Ingredients:
1 pound ground beef
½ cup crushed Rice Chex cereal
⅓ onion, chopped
1 egg, beaten
½ cup cubed Swiss cheese (1 cube per rat)
2 (10 ounce) cans tomato sauce
½ cup white sugar
½ teaspoon paprika
¼ teaspoon dried thyme
¼ teaspoon celery salt
¼ teaspoon black pepper
1½ tablespoons Worcestershire sauce
1 or two uncooked gluten-free spaghetti noodles, broken into 1-inch pieces
½ carrot, cut into â…›-inch thick slices, OR round ends of one brown mushroom cut to â…›-inch thick
1 tablespoon frozen green peas
Directions:
Heat the oven to 350 degrees F (175 degrees C).

In a large bowl, combine the ground beef, onion, egg, crushed Rice Chex, paprika, celery salt, thyme, and pepper.

Use your hands to mix until well blended.
Measure out ⅓ cupfuls of the meat mixture and mold around a cube of cheese like a meatball. I like to put the cheese more toward the front and tell the kids it's rats brains, but use your own judgement.

Shape into a point at one end with a longer body that comes to an oval at the fat end.

Place each ''rat'' into a shallow baking dish, and continue with the remaining meat.

In a medium bowl, stir together the tomato sauce, sugar and Worcestershire sauce, and pour over the rats in the baking dish.

Cover the dish and bake for 25 minutes at 350 degrees F (175 degrees C.)

Uncover the dish and continue to bake for another 5-10 minutes.

Baste rats with sauce from time to time to form a glaze.

Use a spatula to move each rat onto a plated bed of rice.

Insert pieces of uncooked spaghetti into the rounded end of the rats to make tails. Press peas into the pointy end to make eyes.

Use spaghetti pieces to anchor carrot or mushroom slices to make ears. Be careful to remove them, or to make sure no one eats them by accident, especially small children.

Spoon tomato sauce over rats and serve over rice.

Source:
This recipe comes from Angela O. via Allrecipes: Halloween Bloody Baked Rats. In addition to adapting it to be gluten-free, I have taken some liberties with spices, cut down the sugar, and substituted Swiss cheese for cheddar. Enjoy!