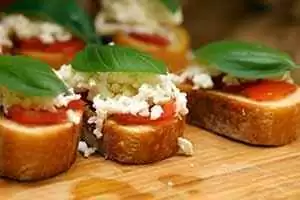 Caption: The finished gluten-free bruschetta. Photo: CC--bruschetta_CC--Family OAbe
In many Italian restaurants, sitting down to dinner means enjoying a appetizer of bruschetta: delicious toasted bread topped with chopped tomatoes, olive oil, basil, and a splash of lemon juice.
Bruschetta is one of those simple, tasty Italian treats that can make sipping your wine while waiting for your food a true pleasure.

When I came home, one of the first things I did was to seek out a recipe for a delicious bruschetta that was gluten-free. Below is a recipe for a simple, delicious gluten-free bruschetta that includes avocado for a bit of a California twist.
Ingredients:
8 slices of gluten-free bread
4 large heirloom tomatoes
2 cloves fresh garlic, minced
1 avocado
1 cup of fresh basil, chopped
Juice of ½ lemon
2 tablespoons olive oil
Salt and pepper to taste
Directions:
Heat oven to 375F.
Place the 6-8 slices of Udi's Bread on a non-stick baking sheet. Brush with Olive Oil and place in the oven. Cook for approximately 3 - 5 minutes until golden brown, turning if necessary.
Remove the toast from the oven and allow to cool on a plate.
Meanwhile, using a large chopping surface,
Dice the avocado and the tomatoes.
Combine the diced avocado and tomatoes in a large mixing bowl.
To the bowl, add chopped basil, the lemon juice, olive oil, salt and pepper, and toss until well mixed.
Spoon the mixture over each piece of bread and serve immediately.
Note: For this recipe, I like to use Udi's gluten-free white sandwich bread, but you are welcome to use whatever brand you prefer. The recipe also works well with multi-grain bread.