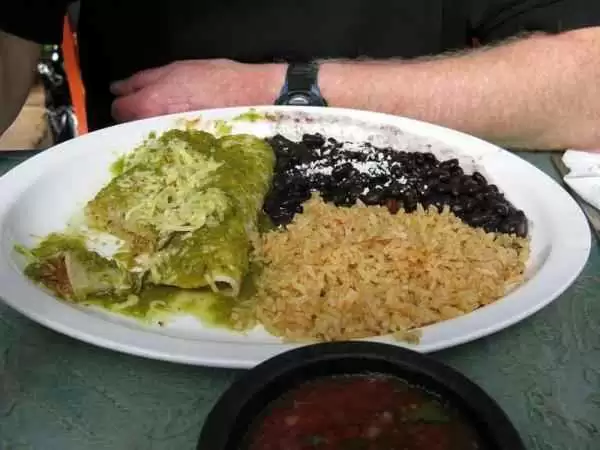 Caption: Image: CC--Dennis M
Celiac.com 06/23/2018 - If you're looking for a great gluten-free Mexican-style favorite that is sure to be a big hit at dinner or at your next potluck, try these green chili enchiladas with roasted cauliflower. The recipe calls for chicken, but they are just as delicious when made vegetarian using just the roasted cauliflower. Either way, these enchiladas will disappear fast. Roasted cauliflower gives these green chili chicken enchiladas a deep, smokey flavor that diners are sure to love.
Ingredients:
2 cans gluten-free green chili enchilada sauce (I use Hatch brand)
1 small head cauliflower, roasted and chopped
6 ounces chicken meat, browned
½ cup cotija cheese, crumbled
½ cup queso fresco, diced
1 medium onion, diced
⅓ cup green onions, minced
¼ cup radishes, sliced
1 tablespoon cooking oil
1 cup chopped cabbage, for serving
½ cup sliced cherry or grape tomatoes, for serving
¼ cup cilantro, chopped
1 dozen fresh corn tortillas 
⅔ cup oil, for softening tortillas
1 large avocado, cut into small chunks
---
Celiac.com Sponsor (A12):


---
---
Celiac.com Sponsor (A12-m):


---
Note: For a tasty vegetarian version, just omit the chicken, double the roasted cauliflower, and prepare according to directions.
Directions:
Heat 1 tablespoon oil in a cast iron or ovenproof pan until hot.
Add chicken and brown lightly on both sides. 
Remove chicken to paper towels to cool.
 
Cut cauliflower into small pieces and place in the oiled pan.
Roast in oven at 350F until browned on both sides.
Remove from the oven when tender. 
Allow roasted cauliflower to cool.
Chop cauliflower, or break into small pieces and set aside.
Chop cooled chicken and set aside.
Heat 1 inch of cooking oil in a small frying pan.
When oil is hot, use a spatula to submerge a tortilla in the oil and leave only long enough to soften, about 10 seconds or so. 
Remove soft tortilla to a paper towel and repeat with remaining tortillas.
Pour enough enchilada sauce to coat the bottom of a large casserole pan.
Dunk a tortilla into the sauce and cover both sides. Add more sauce as needed.
Fill each tortilla with bits of chicken, cauliflower, onion, and queso fresco, and roll into shape.
When pan is full of rolled enchiladas, top with remaining sauce.
Cook at 350F until sauce bubbles.
Remove and top with fresh cotija cheese and scallions.
Serve with rice, beans, and cabbage, and garnish with avocado, cilantro, and sliced grape tomatoes.