Celiac.com 07/02/2015 - Grilled asparagus is an easy, delicious vegetable that grills up quickly, and tastes great with a minimum of condiments.
This recipe makes for a yummy departure from standard grilled asparagus. The secret is in the soy wasabi dipping sauce. This asparagus recipe is sure to make a splash at your next barbecue or backyard party.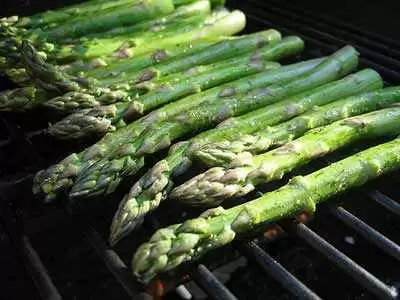 Ingredients:
1½ pounds fresh asparagus
1 tablespoon olive oil
1 cup Kewpie Japanese mayonnaise (Miracle Whip will work)
3 tablespoons gluten-free soy sauce
1 tablespoon sugar
2-3 teaspoons wasabi paste, to taste
1½ tablespoons lemon juice
1 lemon, cut into wedges, for serving
dash of Kosher salt
Instructions:
Trim asparagus ends and discard.
Heat grill to medium-high heat.
Brush asparagus with olive oil and sprinkle with salt.
Grill for about 5 minutes, turning as needed, until tender.
Remove to a plate when done. Serve with lemon wedges.
In a small bowl, mix together mayonnaise, soy sauce, sugar, lemon juice, and wasabi paste.
Serve asparagus on small plates with with fresh lemon wedges and a dollop of dipping sauce.