Celiac.com 06/25/2015 - In Mexico and many points south, grilled corn is a staple, delicious snack. In many towns, vendors selling grilled corn are a common sight.
This recipe marries grilled corn with mayonnaise, crumbled cheese, lime and a dash of chili powder for a tasty, satisfying snack. Serve it at your next barbecue for sure smiles all around.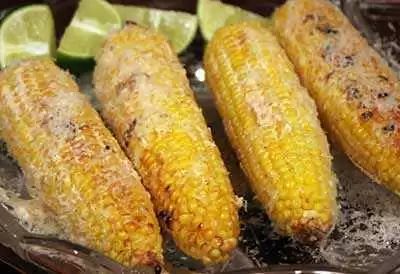 Ingredients:
6 ears of fresh corn on the cob
6 strips bacon, cooked and crumbled
1 tablespoon olive oil
2 tablespoons butter, softened
4 ounces Cotija cheese, crumbled
½ cup mayonnaise
red chili powder, to taste
black pepper, to taste
kosher salt, to taste
wedges of fresh lime
fresh cilantro for garnish
Directions:
Heat your grill to high.
Put mayonnaise, cilantro and lime wedges into separate bowls.
Crumble the Cotija cheese on a plate and set aside.
Mix crumbled bacon into the butter and set aside.
Remove corn husks, and brush each corn cob with olive oil and a dash of pepper. Wrap each ear in aluminum foil.
Grill each side for about 20-25 minutes total, turning corn every 5 minutes or so to make sure the whole cob is properly cooked.
Once corn is finished, pull it off the grill, and set aside to cool for about 5 minutes.
Lightly brush each cob with the bacon butter, or mayonnaise, as desired.
Dust lightly with salt, and chili powder, as desired.
Then roll each cob as desired in Cotija.
Top with fresh cilantro and serve with lime wedges.