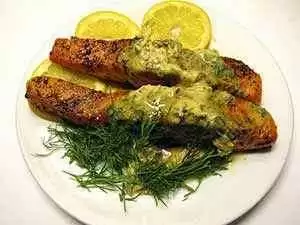 Caption: Photo: CC--Khairil Zafari
Celiac.com 04/25/2014 - I'm a person who appreciates a meal that looks and tastes fancy, but which comes together quickly and easily.
This recipe blends crème fraîche (fancy sour cream), two kinds of mustard and a few other ingredients to deliver some culinary magic. This easy salmon dish makes for an easy upscale dinner, or an easy way to just kick things up a bit in the kitchen.
---
Celiac.com Sponsor (A12):


---
---
Celiac.com Sponsor (A12-m):


---
You can make this with regular sour cream in a pinch, but it's good to blend a bit of plain cream into the sour cream, as crème fraîche is less sour than most American sour cream.

Ingredients:
4 wild salmon fillets, 6-8 ounces each
1 cup crème fraîche, (or sour cream, in a pinch)
2 tablespoons Dijon mustard
2 tablespoon brown apple cider mustard (I use Amy's)
1 tablespoon dry white wine
2 tablespoons minced shallots
1 tablespoon minced fresh dill
2 teaspoons drained capers
1 teaspoon kosher salt
½ teaspoon pepper
dash of paprika
minced fresh dill for garnish
Directions:
Heat the grill to 450 degrees F.
In a small bowl, combine both mustards, wine, shallots, dill, capers, salt, and pepper. Whisk well and whisk in the crème fraîche until blended. Pour into a small sauce pan and place on low heat. Do not boil, but allow to gently come to a low simmer, stirring occasionally, for 10 minutes or so until ready to serve fish.
Sprinkle top of the fish generously with salt and pepper, and rub a bit of olive oil onto the skin on the bottom.
Place fish on hot grill, skin side down. Cook fish until it the oil begins to seep from the seams. Do not overcook! Remove from grill, and plate.
Remove the sauce from the heat. Spoon a bit of sauce over each fillet, and serve the extra on the side.
Top with a dash of paprika and dill. Garnish with sprig of dill.
Serve hot or at room temperature with rice on the side.