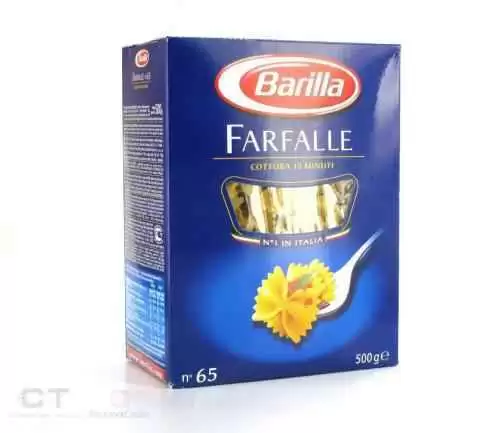 Caption: Has Barilla Pasta Been Ripping Off Customers? Photo: CC--Creative Tools
Celiac.com 10/06/2016 - If you've bought pasta in a box, or if you've even strolled your boxed pasta aisle at the supermarket, you've likely come across Barilla, and their famous blue box. Well, it turns out that the world's largest pasta-maker might have been ripping off customers by routinely under filling their boxes. In fact, Barilla is being sued for 'substantially' under-filling boxes and, as a result, cheating customers out of as much as a quarter of their noodles.
Plaintiffs Alessandro Berni, Domenico Salvata, Mossimo Simioli, and Giuseppe Santochirico, have filed a class-action lawsuit alleging that Barilla deceptively packages certain pastas in order to deceive consumers. They claim extra-protein, whole-grain, and gluten-free pastas are placed in the standard-size boxes used for plain old penne or farfalle — only these specialty boxes are "substantially under-filled."
---
Celiac.com Sponsor (A12):


---
---
Celiac.com Sponsor (A12-m):


---
According to the plaintiffs' math, a box of Protein Plus contains 9.4 percent less pasta, the whole-grain variety is under-filled by 17.4 percent, and the gluten-free shorts buyers a full 25 percent. At the heart of the dispute is a practice commonly known as "slack-fill," the practice of leaving empty space at the top of packaged goods.

Now, many consumers complaint about the practice, but if the contents are measured by weight, and the weight on the label matches the weight of the contents in the box, then there's no problem with slack-filling the package. Often it's done to prevent breakage. However, the plaintiffs argue that Barilla manipulated consumer familiarity with the size and look of the box, familiarity built by decades of marketing, to mislead consumers into thinking they were receiving the same quantity of pasta, even though that quantity, sold in that same familiar blue box, was up to 25% less than usual.

The plaintiffs admit that the boxes do include a vague reference to a "new reduced net weight," but it was placed so that most customers would never notice it. Customers were otherwise uninformed that any change has been made to the amount of pasts in the box.

Previously, Barilla has found themselves in hot water for funding a health study that "found" people didn't get fat eating pasta, which might have proven true had the study relied on under-filled boxes of Barilla. Oh, and then there was that time Barilla publicly suggested that people who are gay should "eat pasta from another manufacturer."

So, will Barilla be forced to change its ways? Stay tuned to learn how this and related cases resolve.

Read more at: Grubstreet.com