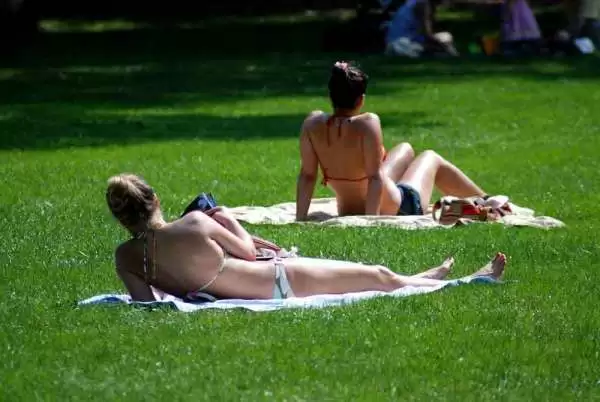 Caption: Sunbathers getting some vitamin D. Image: CC BY-SA 2.0--smannyrock
Celiac.com 02/07/2020 - Over the last couple of decades, celiac disease has increased significantly in some developed countries in recent decades. Possible risk factors listed in medical literature don't seem to offer a convincing reason for the rise in rates. 
This has led some researchers to hypothesize that there is a "missing environmental factor" that increases the risk of developing the disease. 
---
Celiac.com Sponsor (A12):


---
---
Celiac.com Sponsor (A12-m):


---
We've written previously about the possible link between vitamin D and celiac disease over the years, including the fact that vitamin D is one of the top ten risk factors for celiac disease.

There's also some interesting evidence that people with celiac disease can recover normal vitamin D levels through a gluten-free diet, without requiring any supplementation.

Based on evidence from medical literature, researcher Seth Scott Bittker of the Ronin Institute proposes that elevated plasma levels of 1,25-dihydroxyvitamin D [1,25(OH)2D] might be an overlooked risk factor for celiac disease. Bittker also proposes that significant oral vitamin D exposure is a "missing environmental factor" for celiac disease. 

Bittker notes that celiac patients often have elevated plasma levels of 1,25(OH)2D, especially when first diagnosed. He also notes that nine separate celiac-associated conditions raise plasma levels of 1,25(OH)2D.  He cites a retrospective study showing that regular dose of oral vitamin D in infants are tied to a higher celiac disease risk later on, along with other studies that support the connection. 

It turns out that high doses of oral vitamin D increase activity in cytokines, chemokines, and toll-like receptors that are also active in celiac disease. 

Lastly, Bittker points to epidemiological connections, like the start of a celiac disease "epidemic" in Sweden, the increased prevalence of celiac disease in Finland and the U.S. in recent decades, oddly low rates of celiac disease in Germany, and differences in celiac rates between Finnish Karelians and Russian Karelians, may all be explained by oral vitamin D exposure increasing celiac disease risk. 

The same is true of some seemingly contradictory results in the literature on the effects of breastfeeding on celiac disease risk. If future research validates this hypothesis, reducing intake of oral vitamin D among those with genetic susceptibility may lower celiac risk for these people.

Read more at DovePress.com