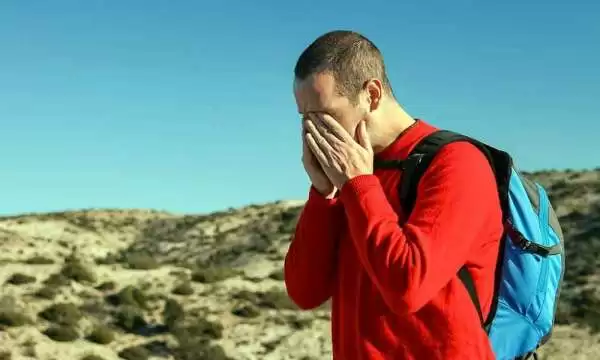 Caption: Migraines can ruin what should be a great day. Image: CC BY 2.0--Jorge Franganillo
Celiac.com 03/12/2020 - A number of studies have shown a connection between migraine headaches and certain gastrointestinal (GI) disorders, like Helicobacter pylori infection, irritable bowel syndrome (IBS), and celiac disease. 
Is there a connection between migraine and the gut-brain axis? When researchers speak of the "gut-brain axis," they are describing a two-way relationship between the gastrointestinal system and the central nervous system. So far researchers don't currently have very good information about the ways in which the gut and the brain might interact in patients with migraine. 
---
Celiac.com Sponsor (A12):


---
A team of researchers recently set out to review and discuss the direct and indirect evidence for a connection between migraine headaches and the gut-brain axis. The research team included Mahsa Arzani, Soodeh Razeghi Jahromi, Zeinab Ghorbani, Fahimeh Vahabizad, Paolo Martelletti, Amir Ghaemi, Simona Sacco, Mansoureh Togha and on behalf of the School of Advanced Studies of the European Headache Federation (EHF-SAS).

Prior research points to a number of potential factors, including inflammatory mediators (IL-1β, IL-6, IL-8, and TNF-α), gut microbiota profile, neuropeptides and serotonin pathway, stress hormones and nutritional substances. 

The current consensus is that neuropeptides, including CGRP, SP, VIP, NPY exert an antimicrobial impact on numerous strains of gut bacteria which are likely involved in the bidirectional relationship between the gut and the brain. 

Current research indicates that eliminating Helicobacter pylori bacteria, for example, can help reduce migraine headaches in people with Helicobacter pylori, and people with a long history of migraines and high headache frequency are much more likely to have IBS.  Further, both IBS and migraine can change the makeup of gut bacteria, and so might influence gut-brain axis and inflammatory response. 

Migraine headaches have also been associated with celiac disease, and doctors should keep this in mind, especially in migraine patients whose brain imaging shows occipital and parieto-occipital calcification. Studies show that a gluten-free diet can help reduce migraine frequency in such patients. 

Many researchers believe that migraine headaches can be improved by diets that support healthy gut microbiota and gut-brain axis, including a low glycemic diet, higher fiber intake, supplemental vitamin D, omega-3 and probiotics, as well as weight loss and dietary plans for overweight and obese patients.

Read more in the Journal of Headache and Pain volume 21, Article number: 15 (2020)

 

The researchers in this study are variously affiliated with the Headache Department, Iranian Center of Neurological Research, Neuroscience Institute, Tehran University of Medical Sciences, Tehran, Iran; the Headache Department, Neurology Ward, Sina University Hospital, School of Medicine, Tehran University of Medical Sciences, Tehran, Iran; the Cardiovascular Diseases Research Center, Department of Cardiology, Heshmat Hospital, School of Medicine, Guilan University of Medical Sciences, Rasht, Iran; the Department of Clinical Nutrition and Dietetics, Faculty of Nutrition and Food Technology, Shahid Beheshti University of Medical Sciences, Tehran, Iran; the Neuroscience section of the Department of Applied Clinical Sciences and Biotechnology, University of L'Aquila, L'Aquila, Italy; the Department of Virology, Pasteur Institute of Iran, Tehran, Iran; and the Department of Clinical and Molecular Medicine, Sapienza University of Rome, Rome, Italy.