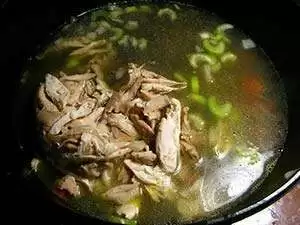 Caption: Photo: CC--I Believe I Can Fry
Celiac.com 02/17/2015 - Homemade bone broth is a great foundation for a healthy diet, and helps to promote gut healing, and overall health.
Simmering animal bones and marrow, feet, tendons, and ligaments in water for one or two days turns collagen into gelatin, and produces a rich complex soup of amino acids and highly absorbable minerals like calcium, magnesium, sulfur, silicon, phosphorus, along with trace minerals.
Ingredients:
1 whole free-range chicken or 2 to 3 pounds of bony chicken parts, such as backs, breastbones, necks and wings
2-4 chicken feet
gizzards from one chicken
4 quarts cold water
2 tablespoons vinegar
1 large onion, coarsely chopped
2 carrots, peeled and coarsely chopped
3 celery stalks, with leaves, coarsely chopped
1 bunch flat parsley
Directions:
If you are using a whole chicken, cut off the wings and remove the neck, and the gizzards from the cavity.
Cut chicken parts, including neck and wings, into several pieces.
Place chicken or chicken pieces in a large stock pot with water, vinegar and all vegetables, except parsley.
Let stand 30 minutes to 1 hour. Bring to a boil, and skim away any froth that rises to the top.
Reduce heat, cover and simmer for at least 6 to 8 hours, and up to 24 hours. Longer simmering time makes richer and more flavorful broth.
About 10 minutes before finishing the stock, add parsley. This is important, as is adds ionized minerals to the broth.
Remove chicken carcass and any meat and bones with a slotted spoon. If using a whole chicken, let it cool and then strip the meat away.
Keep the meat to use in other meals, such as chicken salad, casseroles, enchiladas. You can also add it to any soup you might make with the broth later on.
Strain the stock into a large bowl and refrigerate until the fat rises to the top and hardens.
Skim off fat and store the stock in covered containers in your refrigerator or freezer.
Use broth liberally whenever a recipe calls for broth.