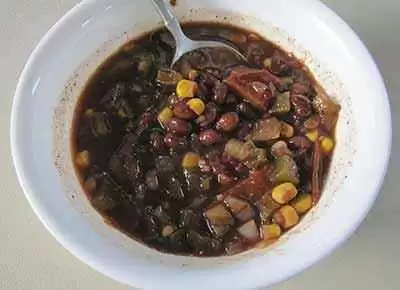 Caption: Tasty black bean vegetarian chili beckons. Photo: CC--Erik Burton
Celiac.com 02/12/2016 - Whether you're looking to make a big impact at your next potluck, or just looking to feed a small army of hungry mouths without working too hard, this hearty vegetarian chili has you covered.

Ingredients:
2 cans black or pinto beans (15 ounces each)
8 fresh tomatillos
1 medium zucchini
1 can tomatoes in purée, coarsely chopped
½ cup canned or frozen corn
½ cup vegetarian broth
3 tablespoons olive oil
1 medium onion, diced
2 tablespoons garlic, minced
1 medium red bell pepper, chopped
1 medium green bell pepper, chopped
1 cup thinly sliced carrots
3 tablespoons chili powder, to taste
1 tablespoons ground cumin
1 teaspoon salt
Pinch of ground cayenne pepper, to taste
Directions:
In a large stock pot, heat oil over medium heat.

Add onion and garlic and cook 2 to 3 minutes, stirring often, until onion starts to soften.

Add bell peppers and carrots, and cook 5 to 6 minutes, stirring often, until carrots and peppers soften a bit.

Add chili powder, cumin, salt and ground red pepper, and cook for another minute or so, stirring well.

Add tomatillos and zucchini, and cook until tomatillos soften, about 10 minutes, stirring often.

Stir in remaining ingredients. Raise to a boil, and then reduce heat to low, cover and simmer 20 minutes.

Uncover and simmer another minutes or so, stirring occasionally, until sauce has thickened and vegetables are tender to a fork.