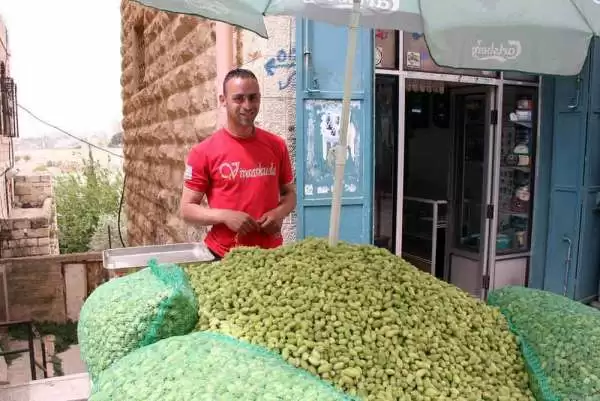 Caption: A man sells chick peas in the pod. Image: CC BY-ND 2.0--idnas71
Celiac.com 07/30/2020 - Baking great gluten-free bread can be a challenge. Fortunately, researchers and product developers are working on that challenge from numerous angles, including new flour types, new milling processes, and new baking techniques that are leading to the development of some amazing gluten-free bread. Here are nine secrets that are at the forefront of some of the most promising breakthroughs in gluten-free bread formulation.
Nine Secrets to Great Gluten-Free Bread
Chickpea Flour
A special type of chickpea flour, called "Artesa," that mimics wheat flour, but can also be used like modified starch in some applications, might offer a major breakthrough for gluten-free baking and manufacturing. Artesa has formulating characteristics, including elasticity and stretch that mirrors wheat gluten without added milk or egg protein, modified starch or gums. It works great in soups, sauces and gravies, and more. 
Cockroach Flour
---
Celiac.com Sponsor (A12):


---
---
Celiac.com Sponsor (A12-m):


---
No, we are not kidding. Flour made from the lowly cockroach could be the new gold-standard for gluten-free baking. Researchers at the Federal University of Rio Grande in Brazil have developed flour made from ground cockroaches that contains 40 percent more protein than normal wheat flour, and also has great bread-like elastic qualities.
Cricket Flour
If cockroach flour is too much for you, may we suggest gluten-free flour made from crickets. No, seriously. Cricket flour might just be the secret to delicious, nutritious gluten-free bread. A team of researchers in Italy has figured out how to use cricket flour effectively to create high quality, great smelling, gluten-free baked goods that are also high protein, and rich in antioxidants.
Electricity
Electricity may hold the key to great gluten-free bread. Researchers at the University of Natural Resources and Life Sciences, Vienna (aka BOKU) recently discovered a way to bake tasty gluten-free bread in minutes, by shocking it from the inside out with a high voltage electrical current.
Mango Flour
Philippine company Green Enviro Management Systems Inc., produces gluten-free mango flour enriched with egg whites and other "healthy" alternatives. The resulting mango flour is good for making many types of muffins, bread, energy bars, and sandwiches.
Plant Proteins
Coeliac UK is teaming with Innovate UK to develop three new plant proteins that will help manufacturers make better gluten-free bread. Nandi Proteins is developing protein concentrates that can be used to improve gluten-free commercial baking. The project will focus on three ingredients currently underused by the food industry: fava beans, rapeseed by-products, and naked oats. 
Wet-Milled Rice
Researchers at Hiroshima University have perfected a wet-mill process to make flour for gluten-free bread that creates tiny bubbles coated in uniform undamaged starch particles in a suitably supportive matrix. The result is gluten-free bread with a similar consistency and volume to traditional wheat-flour loaves.
Wine Flour
Yes, wine flour is really a thing, and it is gluten-free. Inventor Hillary Niver-Johnson makes wine flour from the pomace, or grape skins and seeds, typically discarded in the wine making process. Her product, called Finger Lakes Wine Flour, contains all the same vitamins, minerals, and antioxidants as grapes. Wine flour is also rich in protein and fiber, with two grams of protein and three grams of fiber in every teaspoon. Wine flour is available as Riesling, Cabernet Sauvignon, Cabernet Franc, Merlot, Pinot Noir, and Gewurztraminer. Wine flour does have a trace wine flavor, but might make a great addition to gluten-free sourdough and other breads.
Sourdough Starter
Recent studies show that sourdough fermentation can also speed gut healing in people with celiac disease at the start of a gluten-free diet. Over the past few years researchers have been experimenting with sourdough fermentation as a means for making traditional wheat bread safe for people with celiac disease. Recently, yet another study examined the safety of this process with great results.
Some intrepid gluten-free bakers have combined sourdough starter with gluten-free ingredients to produce great, long-fermented, gluten-free sourdough bread.
Here's a recipe for gluten-free sourdough starter.
Tips for Baking Better Gluten-Free Bread at Home
Here are seven easy tips for baking better gluten-free bread at home.