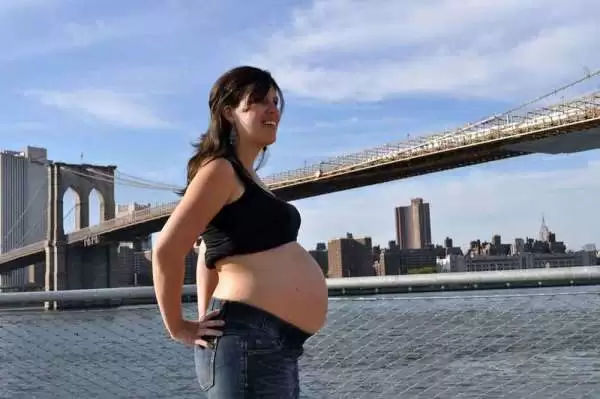 Caption: Image: CC--leonelponce
Celiac.com 06/24/2019 - A team of researchers recently set out to assess whether maternal diet during pregnancy plays any role in the later development of celiac disease in their children.
Among other things, they found that moms who eat a high-fiber diet during pregnancy could reduce the chances of their children getting celiac disease later on, according to a new study, which is one of the first to investigate the link between fiber intake during pregnancy and children's risk of celiac disease.
---
Celiac.com Sponsor (A12):


---
---
Celiac.com Sponsor (A12-m):


---
In the study, a team of researchers analyzed information from more than 88,000 Norwegian children and their mothers, who gave birth between 1999 and 2009. The research team included Dr. Ketil Størdal, a research professor at the Norwegian Institute of Public Health and a pediatric gastroenterologist at Østfold Hospital Trust in Norway, and other colleagues.

The mothers answered questions about their fiber and gluten intake in their 22nd week of pregnancy, and the researchers tracked the children for about 11 years to see if any developed celiac disease.
Kids of High Fiber Moms Have Lower Celiac Risk
The researchers found that children born to mothers who ate the most fiber (over 45 grams per day) were 34% less like to develop celiac disease, compared with mothers who ate less than 19 grams of fiber per day.
Mom's Fiber Intake May Influence Gut Bacteria in Kids
It's known that fiber affects gut bacteria, aka, the gut "microbiome." Indeed, some studies have found that gut bacteria, aka, the gut "microbiome" is different in people with celiac disease than in those without it. The researchers think that the fiber levels of the mom might influence her child's gut flora, which could then reduce the child's celiac disease risk. 
The researchers cautioned people not to read too much into the early findings. The team, says Dr. Størdal, "cannot yet recommend any specific dietary measures during pregnancy to prevent celiac disease, and this needs to be further studied."
No Connection to Gluten-Free Diet
However, the study found no evidence for a link between the mother's gluten intake and her child's risk of celiac disease. The study's findings, said Dr. Størdal, "do not support gluten restriction for pregnant women."
The study will be presented Friday (June 7) at the annual meeting of the European Society for Paediatric Gastroenterology, Hepatology and Nutrition (ESPGHAN). It has not yet been published in a peer-reviewed journal.
Read more at Medicalxpress.com