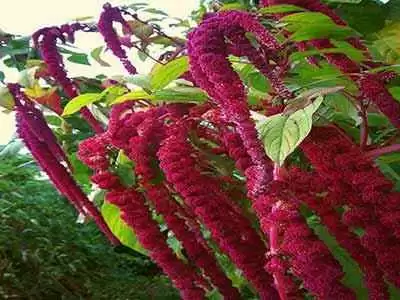 Caption: Image: CC--naturalflow
Celiac.com 02/09/2016 - The top 8 food allergies in Canada are eggs, milk, peanuts, tree nuts, seafood, sesame, soy and wheat. If you have a food allergy and feel limited by it, it's a good idea to explore plant-based options. Plants offer so many benefits—they alkalize your body, reduce inflammation, beef up your vitamin, mineral, phytonutrient, antioxidant and fiber intake, and much more!
And if you think that plant-based foods lack protein to get you going and keep you satisfied, guess again! Certain plant-based foods contain all of the essential amino acids we need and can completely replace animal protein.
---
Celiac.com Sponsor (A12):


---
---
Celiac.com Sponsor (A12-m):


---
Here are four choices that are high in protein and loaded with additional nutrients. Enjoy each one in their whole form in a variety of ways—they are also available in flour form for baking!
Amaranth
Amaranth—a gluten-free grain that is high in fiber, manganese, magnesium and calcium—is a complete protein, containing all of the essential amino acids. It actually has more protein than quinoa, gram for gram—one cup of raw amaranth contains 28.1 grams of protein. Another benefit is that it can lower hypertension and cholesterol. Amaranth can be enjoyed as breakfast porridge, in muffins or as a side dish.
Buckwheat Groats
Buckwheat is the seed of a fruit in the rhubarb and sorrel family. Another complete protein that does not contain wheat or gluten despite its very misleading name, buckwheat is a great source of folate and zinc, which have both been shown to support fertility/virility in women and men. Both of these nutrients are also excellent for our immune system. Buckwheat is a good source of fiber and magnesium. It can be enjoyed for pancakes, as porridge or a side dish replacement to rice. One cup of raw buckwheat contains 22.5 grams of protein.
Quinoa
Quinoa functions like rice. Like amaranth and buckwheat, quinoa is also a complete protein. And like buckwheat, quinoa is technically not a true grain or member of the grass family either. Referred to as a "chenopod," quinoa is related to species such as beetroots, spinach and tumbleweeds. In addition to protein, quinoa contains many nutrients, including fiber, manganese, magnesium, phosphorus, folate, iron and zinc. Quinoa can be served in its whole form as a main or side dish, and quinoa flour is great in baked goods. One cup of raw quinoa contains 24 grams of protein.
Teff
Good things come in small packages! Last but not least, teff is the smallest grain in the world. Teff contains many amino acids and is high in protein—it just isn't a complete protein. It contains an excellent source of calcium, magnesium, zinc and iron, which are all important for immune function. Teff can be eaten as a hot cereal and is also available as tortilla wraps. One cup of raw teff contains 25.7 grams of protein.