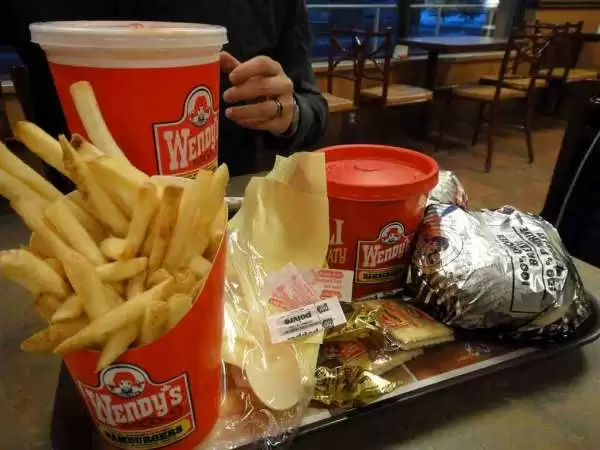 Caption: Fast food packaging can be a source of PFAS's. Image: CC BY 2.0--Calgary Reviews
Celiac.com 09/28/2020 - Biomedical researchers Tuulia Hyötyläinen and Matej Orešič, at Örebro University, have published two studies connecting highly fluorinated chemicals to autoimmune diseases in children. In the studies, Hyötyläinen and Orešič, link per- and polyfluoroalkyl substances (PFAS's) – with type 1 diabetes and celiac disease, or gluten intolerance in children. 
PFAS are man-made chemicals. There are about 5,000 PFAS, and they are used in numerous consumer products, such as furniture, adhesives, food packaging, coatings in clothing, and even fire-fighting foam.
---
Celiac.com Sponsor (A12):


---
---
Celiac.com Sponsor (A12-m):


---
In the celiac disease study, Hyötyläinen and Orešič show a connection between PFAS and celiac disease, by demonstrating that "high exposure to PFAS in the womb and in first years of life can accelerate the development of celiac disease in children," says Hyötyläinen. The studies appear in Environment Research. 

Their conclusions are based on analysis of the metabolization of small molecules in the body, and analysis of PFAS, coupled with a system's biology approach to integration of complex study data, gathered from expectant mothers and children.

"Exposure to harmful chemicals in early life, including prenatally, may offer an explanation for the changing incidence of these autoimmune diseases in developed countries and can be connected to other health risks," says Matej Orešič.

In Sweden and other Nordic countries, as in many other modern countries, type 1 diabetes is one of the most common chronic diseases among children, with cases rising sharply in the last few decades. Interestingly, the incidence curve has flattened in the last several years, which may result from stricter PFAS regulation in recent years.

Researchers know that some children have genes that increase their likelihood of developing type 1 diabetes, but only about one in ten of them actually go on to develop diabetes. This strongly indicates an environmental factor as a potential trigger for autoimmune disease development. Both viral infections and diet have been singled out as potential triggers.

In their recent work, Hyötyläinen and Orešič describe how PFAS impacts lipid metabolism and risk of type 1 diabetes in new-born children. Their study data shows that these chemicals are easily passed from exposed expectant mothers to the fetus. Moreover, it is known that "children exposed to the high levels of PFAS during the prenatal stage have a certain lipid profile...associated with an increased risk for type 1 diabetes and the development of the disease in children," explains Orešič.

The team's findings are confirmed by another clinical study on children at-risk for type1 diabetes, along with two studies on experimental models of type 1 diabetes in mice.

This is not the first study to show links between exposure to chemicals and the development of celiac disease, and other certain auto-immune conditions.

The implications of the research for the understanding of type 1 diabetes and celiac disease in children remains unclear, as does information on safe or unsafe levels of PFAS exposure in humans. Certainly further study and consideration of the issue by researchers and clinicians is welcome. 

Stay tuned for more on the role of pesticide and chemical exposure in the development of celiac disease and other auto-immune conditions, including type 1 diabetes.

Read more at Medicalxpress.com