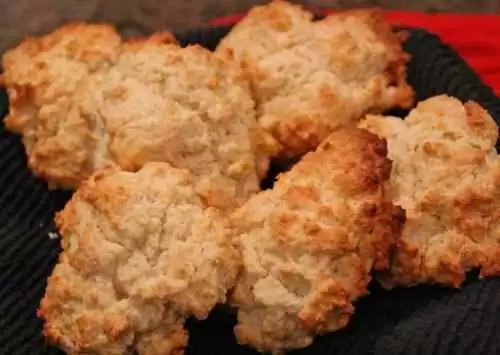 Caption: Photo: CC/biskuit
I miss biscuits more thananything. Before going gluten-free, I loved to eat biscuits andgravy, strawberry shortcake (on homemade biscuits) and warm biscuitswith honey! There is nothing that compares with the satisfaction ofeating a warm homemade biscuit. Which is why the following recipe isso exciting. This is a recipe that can be manipulated to cater tospecific dietary restrictions-even mine! There are dairy-free,soy-free and egg-free options included. It might take a couple triesfinding the right combination for you, so spend a day making somedelicious gluten-free home-style biscuits.
Home-style Drop Biscuits(Gluten-Free)
Servings: 16 largebiscuits
Ingredients:
1 ½ cup brown rice flour
2 cup corn starch orpotato starch or tapioca starch
½ cup soy flour orsorghum flour
2 teaspoons baking powder
1 ¾ teaspoons salt
1½ teaspoons teaspoons baking soda
2 teaspoons xanthan gum
1 stick of butter or gluten-free butter substitute(chilled in the freezer)
1 ¼ cup soy milk 
1 ¼ cup water
1 tablespoon cider vinegar
1 egg, beaten (or the equivalent amount ofyour favorite egg replacement)
To Make:
*Note: 1. If you're not vegan or dairy free, feelfree to use 1 c. buttermilk in place of the soy milk and vinegar. Ifyou're allergic to soy, try using your usual milk substitute andkeep the vinegar in the recipe.
Also reduce the liquid if necessary, you don't want the batter to be too runny.

Preheat your oven to 350F degrees.
In a large mixing bowl thoroughly combine the flour (a fork works well for this), bakingpowder, salt, baking soda, and xanthan gum.
For an easiertime working with the butter, grate the butter into the flour usingthe small holed side of a box grater. Mix the butter into the flourso that there are no large balls of grated butter.
Add the soy milk, water, vinegar and beaten egg to the flourand stir until the dry and liquid ingredients are combined.
Using a large spoon, drop the dough onto agreased pan to make 16 biscuits.

Cook at 350F degrees for 15 minutesor until golden brown.