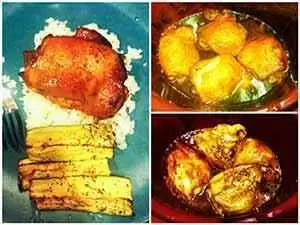 Caption: The finished honey garlic crock pot chicken. Photo: CC--Lauren Lindsey
Celiac.com 10/04/2013 - I crave this dish all of the time! I'm certainly no top-chef when it comes to preparing chicken on the grill so I've recently turned to the crock pot. I have to admit, I was pretty impressed with myself after making it. The sweet and saltiness with a hint of herbs paired nicely with tender meat that fell right off the bone. Simply mix up the ingredients, pop it in the crock pot, and you'll have a tasty meal ready by dinner time.

You will need:
4 chicken thighs
2 tablespoons basil
1/2 cup of liquid aminos (less sodium and no msg) or gluten-free soy sauce
1/3 cup Ketchup
1/2 cup honey
3-4 cloves of minced garlic
A pinch of cayenne pepper (optional)
Procedure:
Place chicken in crock pot. Stir the ingredients together in a separate bowl. Pour evenly over chicken thighs. Turn to high and cook for 3 hours. I flipped each side after 1 ½ hours but that's optional.
Serve chicken and sauce on top of Jasmine rice and baked zucchini with thyme.
For a crispy outside, place on a baking sheet and broil for about 4 minutes or until desired.
Enjoy!
This is also great for weekly meal prep: simply combine the ingredients and freeze them. Thaw it out the night before, toss in the crock pot the next morning, and slow cook for 6 hours. Yum!