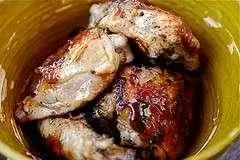 Caption: The finished grilled chicken thighs. Photo: CC- stevendepolo
Oh, Chicken, how can I prepare thee? Let me count the ways. This is a great, quick spin on everyday chicken thighs and can easily spice up an ordinary middle-of-the-week dinner. The combination of spices is potent and aromatic but the real kick comes from the cider vinegar. I've played around with different combinations and quantities of spices depending on which flavor I want to highlight—that's the fun part. Thighs are great over brown rice, on a salad, with veggies, in tacos or even on their own. Thighs also cook great on the grill in the summertime.

Ingredients:
8 skinless, boneless chicken thighs
6 tablespoons honey
3 teaspoons cider vinegar
2 teaspoons garlic powder
2 teaspoons chili powder
2 teaspoons paprika
2 teaspoons black pepper
1 teaspoon ground cumin
1 teaspoon ginger
1 teaspoon ground red pepper
1 teaspoon salt

Directions


In a small bowl, mix honey and cider vinegar and set aside.

Combine all spices in medium a bowl and mix well. Add in chicken thighs and work until well coated with spice mixture. Place thighs on a broiler pan and broil for 5-6 minutes on each side.

After chicken in fully cooked, remove from over and brush half of the honey glaze over thighs. Cook for another minute and repeat with the reverse side of the chicken. Serve with you favorite side dish. Thighs are great the next day.