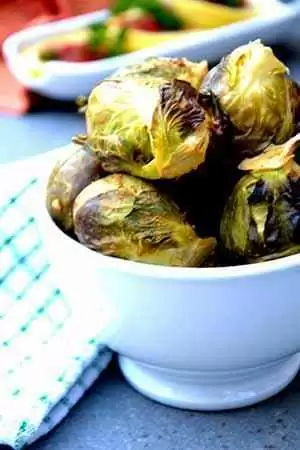 Caption: The finished honey-roasted Brussels sprouts.
This dish can be served as an appetizer or as a side dish for your favorite meal.

Gluten-Free and Vegan
Serves 2

Ingredients:
1 lb. Brussels sprouts
2 cups herbal tea, brewed
2 Tbsp. honey
1/2 cup almond butter
2 Tbsp. Barlean's Flax oil

1/2 cup rice milk
1/4 tsp. cinnamon
2 Tbsp. warm water
Directions:
Preheat oven to 350 degrees F.
Place Brussels sprouts in a roasting pan.  Pour 2 cups brewed green tea over Brussels sprouts, then drizzle with honey.  Place into the oven for 30 minutes; flipping sprouts after 15 minutes to ensure even cooking.
Meanwhile, in a medium sized bowl, combine remaining ingredients; mix until well combined. Set aside.
Remove Brussels sprouts from oven; drain remaining liquid.  Transfer sprouts to a serving bowl.
Serve warm with a drizzle of almond sauce.
Enjoy.