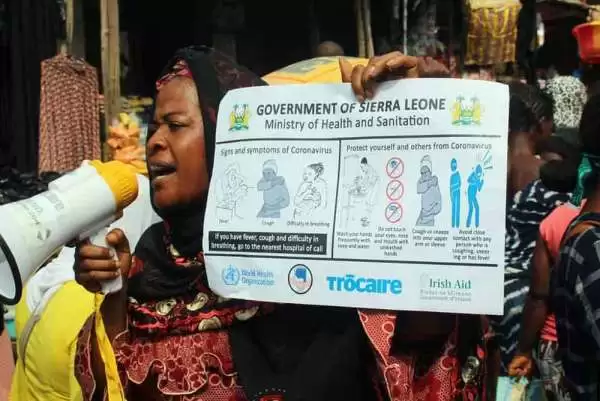 Caption: Providing COVID prevention information at the market with a poster and megaphone. Image: CC BY 2.0--Trocaire
Celiac.com 06/29/2020 - Coronavirus Disease 2019 (Covid-19) has killed nearly a half a million people globally, and over 120,000 here in the United States. People with celiac disease have to eat gluten-free in order to avoid negative health consequences.
The pandemic fallout has included home lockdowns, food shortages, and disruptions. How concerned and/or anxious are people with celiac disease about the lockdowns and the possible shortages of gluten-free food?
---
Celiac.com Sponsor (A12):


---
---
Celiac.com Sponsor (A12-m):


---
A team of researchers recently set out to to evaluate the perception of this in celiac disease patients who require a lifelong gluten-free diet as a therapy. The research team included Monica Siniscalchi, Fabiana Zingone, Edoardo Vincenzo Savarino, Anna D'Odorico, and Carolina Ciaccia. They are variously affiliated with the Celiac Center at Department of Medicine, Surgery, Dentistry of the Scuola Medica Salernitana at the University of Salerno in Salerno, Italy, and the Gastroenterology Unit of the Department of Surgery, Oncology and Gastroenterology at University of Padua in Padua, Italy.

To get a picture of the concerns people with celiac disease are having during the pandemic, the team created an e-mail COVID-19 survey for adult patients from the University of Salerno in Campania, in the south of Italy, and the University of Padua in Venice, in northern Italy. After emailing 651 surveys to adult celiac patients, the team received 276 replies, for a response rate of just over 42%. 

Nearly 60% of celiacs said that they were not concerned about being more susceptible to Covid-19 just because they had celiac disease. Nearly 50% said that they were not concerned "at all" about the possible gluten-free food shortages during the pandemic. 

Of patients who were concerned about exposure and food shortages, most were older, female, and suffered from other comorbidities. Finally, celiac patients said that they were happy with remote consultations and explicitly asked to have them.

The researchers point out that COVID-19 offers clinicians a chance to practice large-scale remote consultation for providing healthcare for people with celiac disease. According to the researchers, telemedicine is popular with celiacs, and should be integrated into the celiac healthcare regimen. The COVID-19 pandemic has affected numerous celiac patients, especially women, elderly patients, and those with comorbidities. 

Read more in Dig Liver Dis. 2020 May 16