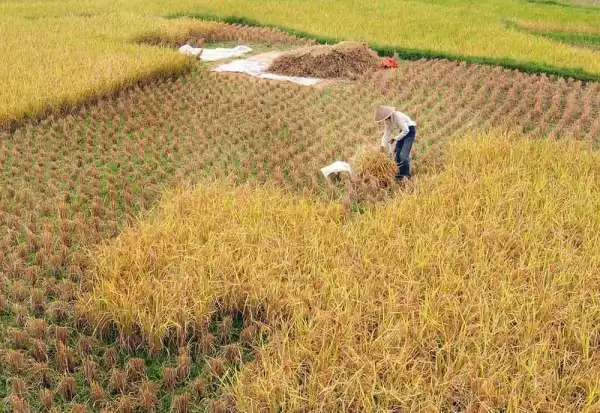 Caption: A farmer harvests his rice. Image: CC BY 2.0--udeyismail
Celiac.com 05/23/2020 - Although large doses of arsenic are deadly, many of us are consuming small quantities of this poison on a daily basis.  It comes to us in our drinking water and in some of our foods, especially rice.  Small doses of arsenic are considered harmless.  It is a natural substance, traces of which are found in most soils.  However, chronic intake or larger doses of arsenic cause an increased risk of cancers of the liver, skin, lung, and bladder.  Still larger doses are well documented to result in multi-system organ failure and death.  Unfortunately, this ubiquitous substance seems to have an affinity for rice, especially in the bran.  Rice is a common substitute, among gluten sensitive individuals, for gluten-containing flours.  Since we are more likely to eat more rice than the national average, we may also ingest more of this toxic and dangerous chemical.  Thus, it may be prudent to learn more about the carcinogenic properties of arsenic and just how large the arsenic content of rice really is.  
Reznikova and her associates have postulated a theory explaining how arsenic causes skin cancer (1).  Meanwhile, Lorraine Heller, reporting for Nutraingredients.com, states that there are no safe levels of arsenic when it comes to cancer risk.  She quotes Professor A.  Meharg as saying that ingestion of even the tiniest quantities of arsenic "will have an associated cancer risk" (2).  One reporter for the "Mail Online" has asserted that "Arsenic is believed to be particularly associated with a higher risk of bladder and lung cancer" (3).  Liao and associates have reported data suggesting a linear relationship between internal cancers and arsenic exposure (4) while Chen, et.  al.  indicated that patients with arsenic related cancers have decreased survival rates (5).  Further, Lubin et.  al.  report that workers who breathe airborne arsenic from the air in copper smelters have a dose-dependent,  increasing  risk of developing lung cancer  (6).  
---
Celiac.com Sponsor (A12):


---
Animal studies conducted by Lantz et.  al.  also indicate that exposure to arsenic in utero and infancy, in addition to causing an elevated risk of lung cancer, also induces permanent damage to pulmonary structure and function (7).  Cox has even suggested that the removal of arsenic from tobacco may reduce or eliminate the increased risk of some types of lung cancer related to smoking (8).  

Rice grown in paddies is more likely to contain higher concentrations of arsenic if it is available in irrigation or ground water (9).  While industrial effluent is one important contributor to arsenic concentrations (10) professor Meharg has also pointed out that cotton production in the past often relied heavily on arsenic pesticides.  Residues of these pesticides are now being assimilated by rice crops being grown in former cotton fields (3).  This may explain why researchers are finding disturbing arsenic concentrations in rice grown in parts of Arkansas, Louisana, and Mississippi.  These regions are producing rice that has arsenic concentrations that are three to five times the concentrations in rice grown in California (3).  

Brown or whole grain rice is particularly problematic.  The bran of rice is not only where most of the arsenic is concentrated (11) this bran also contains anti-nutrients that interfere with mineral absorption.  (I won't pursue this latter issue any further, as I have raised this concern in previous articles.)    

Of particular concern is the traditional recommendation that infants be started on solid food in the form of rice pablum.  Professor Meharg pointed to several groups that consume relatively large quantities of rice, including infants and individuals eating a gluten-free diet (12).  Meharg points out that "The majority of babyfood has relatively high levels of arsenic—the top end of the range".  He goes on to say that given their body weight, children are eating relatively larger quantities of arsenic in rice, rice pudding, rice crackers, and powdered rice" (12).  Rice bran is of particular concern because this is where the arsenic is more concentrated (13).  

Given the potential for arsenic-induced, permanent lung damage, increased risks for a variety of internal and skin cancers, and a general reduction of life expectancy, we need to pay attention to several facets of rice cultivation, particularly as there are farming methods and fertilizers that can reduce the uptake of arsenic by rice.  We need to be aware that consumption of rice in large quantities, over long periods, may be damaging to our health.  We also need to start children on solid foods that are less likely to have a poisonous impact.  In addition to its highly glycemic nature, rice is far from an ideal infant food because of the phytates it contains.  The arsenic is assimilated by rice whenever rice is cultivated in areas with elevated levels of arsenic in the water and/or soil, in the absence of special farming techniques or special fertilizers.  I recommend that we all be conservative in our consumption of rice, avoid rice bran or brown rice, and completely ignore the "superfood" claims for rice bran.  It is particularly important that rice not be fed, in significant quantity, to infants.   

Sources:
Reznikova TV, Phillips MA, Rice RH.Arsenite suppresses Notch1 signaling in human keratinocytes.  J Invest Dermatol.  2009 Jan;129(1):155-61.  Epub 2008 Jul 17.
Heller L, Rice bran contains high arsenic levels.  www.nutraingredients.com Aug 26, 2008
Rice tainted by arsenic 'raises cancer risk' Mail Online www.dailymail.co.uk March 23, 2007
Liao CM, Shen HH, Chen CL, Hsu LI, Lin TL, Chen SC, Chen CJ.  Risk assessment of arsenic-induced internal cancer at long-term low dose exposure.  J Hazard Mater.  2008 Nov 5.
Chen CH, Chiou HY, Hsueh YM, Chen CJ, Yu HJ, Pu YS.  Clinicopathological Characteristics and Survival Outcome of Arsenic Related Bladder Cancer in Taiwan.  J Urol.  2008 Dec 11.  
Lubin JH, Moore LE, Fraumeni JF Jr, Cantor KP.  Respiratory cancer and inhaled inorganic arsenic in copper smelters workers: a linear relationship with cumulative exposure that increases with concentration.  Environ Health Perspect.  2008 Dec;116(12):1661-5.  
Lantz RC, Chau B, Sarihan P, Witten ML, Pivniouk VI, Chen GJ.  In utero and postnatal exposure to arsenic alters pulmonary structure and function.  Toxicol Appl Pharmacol.  2008 Nov 27.  
Cox LA.  Could Removing Arsenic from Tobacco Smoke Significantly Reduce Smoker Risks of Lung Cancer? Jr.Risk Anal.  2008 Nov 5.
Bogdan K, Schenk MK.  Arsenic in rice (Oryza sativa L.) related to dynamics of arsenic and silicic acid in paddy soils.  Environ Sci Technol.  2008 Nov 1;42(21):7885-90.
Mandal BK, Suzuki KT.  Talanta.  Arsenic round the world: a review.  2002 Aug 16;58(1):201-35.
Brahic C, Superfood rice bran contains arsenic.  www.newscientist.com Aug.  22, 2008
Clover C, 'Dangerous' levels of arsenic in 10pc of rice.  www.telegraph.co.uk Aug 29, 2007
Sun GX, Williams PN, Carey AM, Zhu YG, Deacon C, Raab A, Feldmann J, Islam RM, Meharg AA.  Inorganic arsenic in rice bran and its products are an order of magnitude higher than in bulk grain.  Environ Sci Technol.  2008 Oct 1;42(19):7542-6.
Mandal BK, Susuki KT, Arsenic round the world: a review.  Talanta, Aug 16, 2002 16;58(1): 201-35.  
Ma JF, Yamaji N, Mitani N, Xu XY, Su YH, McGrath SP, Zhao FJ.  Transporters of arsenite in rice and their role in arsenic accumulation in rice grain.  Proc Natl Acad Sci U S A.  2008 Jul 22;105(29):9931-5.  Epub 2008 Jul 14.
Chen XP, Zhu YG, Hong MN, Kappler A, Xu YX.  EFFECTS OF DIFFERENT FORMS OF NITROGEN FERTILIZERS ON ARSENIC UPTAKE BY RICE PLANTS.  Environ Toxicol Chem.  2007 Nov 20:1.