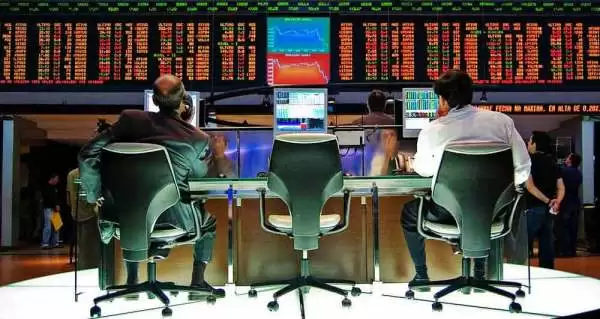 Caption: Stock exchange. Image: CC BY 2.0-- rednuht
Celiac.com 06/01/2020 - People with inflammatory bowel diseases like Crohn's disease and ulcerative colitis (UC) can have difficulty determining when their symptoms are worsening, which can make them prone to more complications and hospitalizations, according to Lawrence Kosinski, MD, founder and chief medical officer of SonarMD.
That can mean highly variable per patient costs, higher overall costs, and more intense patient management, according to data from DDW. Kosinski and colleagues suggest that profiling chronic gastrointestinal diseases by gauging volatility based on cost might offer a hedge against this volatility, in much the same was as it does on the stock market. 
---
Celiac.com Sponsor (A12):


---
---
Celiac.com Sponsor (A12-m):


---
"Like stocks in the stock market, diseases can be profiled by their volatility...Variability drives cost for these diseases...Some diseases have high variability (high beta), whereas others have low variability (low beta)...The higher the variability (beta rating), the higher the overall cost/patient," says Kosinski.

To calculate an index and beta rating for chronic gastrointestinal diseases, the researchers used data from nearly 41,000 members of the Health Care Service Corporation, such as professional, facility and pharmacy claims for calendar year 2017. From that data, they were able to calculate an index and beta rating for GERD, peptic ulcer disease (PUD), gastritis, celiac disease, pancreatitis, irritable bowel syndrome, Crohn's disease, UC, colon polyps and diverticulitis.

They began by calculating the total disease specific cost for each condition, and used it to build a GI Disease Index with the total disease specific cost for each GI condition, which they separated into deciles. When they determined the cost per decile for each condition, and compared that with the GI index, they found strongly positive beta scores in celiac disease and UC, but in no other GI conditions.

The team notes that less variable conditions have more predicable costs and outcomes, and so may be better suited for bundled payments and more episodic care. According to Kosinski, value-based programs with a focus on care coordination, patient engagement and disease management, can improve care and lower costs, high beta conditions.

The team is encouraging insurers and gastroenterologists "to work together to engage patients with high beta conditions, track symptoms, catch deterioration early, and intervene before it becomes a bigger problem," he said. The result could be healthier patients and better bottom lines for everyone.

Stay tuned for more on this and related stories.

Read more at Healio.com