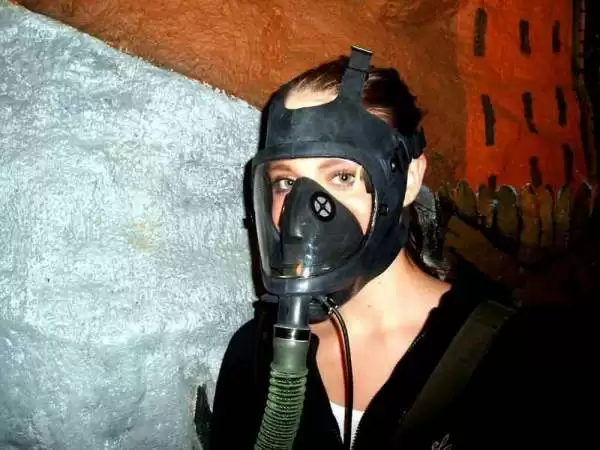 Caption: A woman wearing a gas mask. Image: CC BY-ND 2.0--agasvime
Celiac.com 04/30/2020 - Patients with inflammatory bowel disease (IBD) seem to suffer milder effects in the disease phase of COVID-19 than other patients, according to two new reports. That may be due to their treatment with immunosuppressant drugs, including salicylates. What's going on? Could people with celiac disease share a similar benefit?
Because many patients with IBD receive immunosuppressive drugs, doctors have wondered whether those patients might be more susceptible to COVID-19, or its effects. On the other hand, immunomodulatory therapies might also suppress the hyperinflammatory cytokine response associated with the most severe presentations of COVID-19.
---
Celiac.com Sponsor (A12):


---
Dr. Lorenzo Norsa and colleagues observed 522 IBD patients in their clinic at the Papa Giovanni XXIII Hospital in Bergamo, Italy, which was the epicenter of Italy's outbreak, and suffered some of the highest rates of SARS-CoV-2 infection in the world. All of these patients are on some form of immunosuppressive drug, and more than 60% are being treated only with salicylates.

During the observation period, the team saw no cases of COVID-19 in this group, and none of the 522 IBD patients were hospitalized with SARS-CoV-2 infection. However, during the same period, 479 patients with no IBD history were hospitalized for severe COVID-19 and respiratory failure.

Based on the team's calculations using data from the Wuhan region, however, there should have been 21 cases among their IBD patients. The team advised all of their IBD patients to continue their treatments as directed. 

The team notes that immunosuppressive drug therapy did not emerge as a risk factor in earlier outbreaks of SARS and MERS coronavirus, and no patients with IBD as the only risk factor contracted serious SARS or MERS-related disease.

These findings are fascinating. Could immunosuppressant drugs provide some protection against Covid-19? Could IBD itself offer some protection? If the protective effect is real, and due to the drug treatments, then it is unlikely people with celiac disease would get a similar benefit. Still, so many questions arise.

Confirmation of these findings could provide some useful insight into the nature of the coronavirus, and may offer a useful tool for treating IBD patients during the Covid-19 pandemic. The team is calling for further study of the issue.

Read more in Gastroenterology and bmj.com