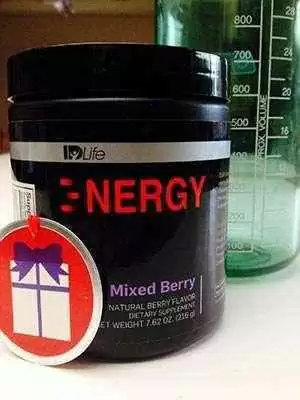 When a company comes out with a new energy drink, I'm generally skeptical—I mean, you're talking to a serious coffee drinker here!   But after trying this great new product from IDLife, I have now made the switch. No more coffee in the afternoon—only IDLife's energy drink.

The recommended scoop gives sustained energy from late morning to mid-afternoon and the berry flavor tastes delicious. While this energy drink does contain caffeine, the boost you get is obviously very different from a cup of coffee. Some important ingredients include Bitter Orange Extract, Quercetin and Taurine.  
---
Celiac.com Sponsor (A12):


---
---
Celiac.com Sponsor (A12-m):


---
Bitter orange stimulates the digestive function by stimulating production of digestive enzymes.  Quercetin is an antioxidant that provides cardiovascular protection. Taurine is an amino acid that helps regulate the level of water and mineral salts in the blood.  

Something else I really like is that this energy drink is sweetened with stevia, not sugar. And last, but not least, it contains red beet powder which is a rich source of protein. A jar of this magical powder lasts a long time and is much less expensive than pre-made liquid energy drinks.  It also comes in handy travel packets.

For more information visit:  www.Health4Life.idlife.com.


 

 

 

Review written by Patricia Seeley.