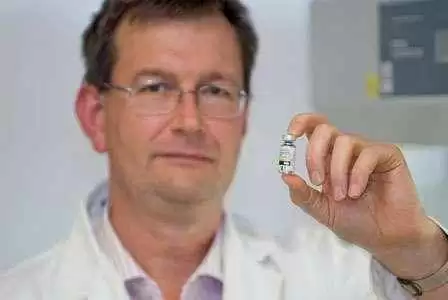 Caption: Photo courtesy of Walter and Eliza Hall Institute.
Celiac.com 05/23/2011 - ImmusanT, Inc., a biotechnology start up based in Cambridge, Massachusetts, is testing a vaccine to desensitize celiac patients to gluten. It is called Nexvax2, and it has already passed Phase I clinical trials, which means that it is safe and tolerable to humans. Nexvax2 is slated to begin Phase II trials, which address efficacy, within the next year.
Nexvax2 was developed by Nexpep Pty, Ltd., a company in Melbourne, Australia. It is based on their findings that only three peptides are responsible for eliciting the majority of the T cell response that goes on to destroy the intestines of celiac patients. HLA molecules function to present these toxic peptides to T cells; this presentation is what activates the T cells, instigating the inflammatory response. Thus, this vaccine relies on the HLA type. It is specific for celiacs with the HLA-DQ2 haplotype, accounting for about 90% of celiac patients. Nexvax2 encompasses these three proprietary peptides, presenting them to T cells in the absence of a second, T-cell stimulatory signal. T cell recognition of the HLA-DQ2 bound toxic peptides thus occurs in a non-inflammatory environment, establishing tolerance to dietary gluten. This peptide based approach has been successful in generating tolerance in people with cat-sensitive asthma, and has not been used more broadly because it has been difficult to identify the correct toxic epitopes. Similar efforts are underway to discover and develop peptide-based therapeutic vaccines for other autoimmune diseases, including multiple sclerosis, Type-1 diabetes, and rheumatoid arthritis, but celiac disease is an ideal target for the technology because the HLA types that activate the inflammatory T cells in celiac disease are so well defined.
---
Celiac.com Sponsor (A12):


---
---
Celiac.com Sponsor (A12-m):


---
The vaccine consists of a weekly or monthly injection, and would allow those with celiac disease to resume eating "normal" levels of gluten without suffering adverse effects. Other therapies that have proposed to treat celiac disease, such as those promoted by the companies Alva, Alba, and Chemocentryx, did not aim to replace the gluten free diet; they allowed only small, intermittent exposure to gluten. During the Phase I trial of Nexvax2, some people who got the injections containing the highest doses of the toxic peptides suffered gastrointestinal distress; they thus inadvertently acted as a positive control, indicating that the peptides administered are in fact the correct ones.

ImmusanT is also partnering with INOVA Diagnostics to use reactivity to these peptides as a diagnostic test both for celiac disease and for those celiac patients who might be good candidates for the Nexvax2 vaccine - i.e. those 90% who are HLA-DQ2 rather than those who are HLA-DQ8.

Source: