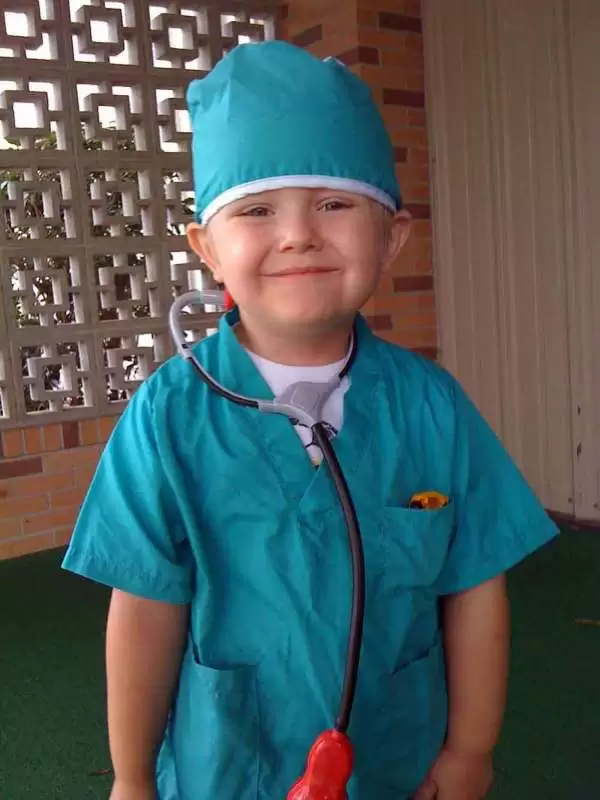 Caption: Image: CC--Chris Harrison
Celiac.com 03/28/2019 - You could say that I was pretty spoiled when it came to medical care while growing up. At 12 years old I was diagnosed with juvenile diabetes on my first visit to Children's Hospital in Boston. Three years later, I was diagnosed with celiac disease at the same hospital in a single visit (blood tests and an endoscopy confirmed the diagnosis, but there was a presumptive celiac disease diagnosis made in less than an hour). My experience seems to contrast the norm: according to the University of Chicago's Celiac Disease Center, the average child visits eight pediatricians before being accurately diagnosed with celiac disease.  
During my college years, I deftly managed both conditions with relative ease. I didn't let my pair of autoimmune diseases stop me from traveling to Italy, Brazil, and Chile and living overseas in Israel and Jordan. I became very good at following a gluten-free diet across different cultures, cuisines, and languages. Overall, I became content with the state of my celiac disease. But that all changed after I graduated from college—the student health center was no longer an option and I was forced to find a doctor on my own for the first time. 
---
Celiac.com Sponsor (A12):


---
---
Celiac.com Sponsor (A12-m):


---
My first attempt was a somewhat frightening, but ultimately enlightening, experience. After meeting with a physician for what felt like five minutes, he informed me that he was interested in taking some general lab tests, and that he wanted me to schedule a follow-up appointment. "Standard stuff," I thought to myself. Since I hadn't seen a doctor relating to my celiac disease since my diagnosis, I asked the physician, "Are there any tests that I should get for my celiac condition? Aren't I at risk for certain nutritional deficiencies? Are there any supplements I should be taking?" The physician responded with a puzzled look and blurted out, "I'm not sure what you're talking about."

I left that appointment feeling confused and upset. Was I wrong? I could have sworn a doctor told me at some point to take at least a multivitamin. My ignorance of celiac disease was profound; I thought I was doing a pretty good job of managing it. Until this point in time, it really only affected my lifestyle in two ways—it was always Jack and Diet Coke instead of beer, and meat and veggies instead of pasta and sandwiches.

After a basic Internet search, I discovered that it was the doctor who was wrong. There are follow-up tests that are appropriate for someone with celiac disease—especially for someone who hasn't been seen by a specialist for several years (in my case, nearly a decade). He was also misinformed about supplement use for celiac disease patients, as there is a general consensus that people with celiac disease should take a gluten-free multivitamin.

While frustrating, that doctor's visit turned out to be a life-changing experience. It was at that moment that I decided to take my health into my own hands. Until that point in time, all I knew about celiac disease was that I had to follow a gluten-free diet. I had an Earth-shattering paradigm shift about how celiac disease impacted my life. 

I immediately immersed myself in celiac disease information by scouring the articles on celiac.com (one of the most popular sources of educational material on celiac disease). I was surprised to find a wealth of information about the ways that celiac disease affects overall health. I went on to order and read the books Cereal Killers by Scott Adams and Dr. Ron Hoggan and Celiac Disease by Dr. Peter Green. Both books provide a great overview of celiac disease and its various manifestations. They also helped me understand the difference between gluten intolerance and celiac disease. Most importantly, they gave me more information on how to take extra steps to manage my celiac disease beyond the gluten-free diet. These books informed me about the most common celiac-induced nutrient deficiencies and touched on supplementation as well.

As I plunged deeper into the online world of celiac disease I stumbled upon Gluten-Free Faces, a social media site created just for people with celiac disease. This website is a phenomenal resource that helps people connect with others with celiac disease in your area. Members exchange information on restaurants and recipes, join common interest groups, and share tips on managing celiac disease. In my case, I was lucky to find Elizabeth Smith, a certified nutritionist and creator of www.manageceliac.com. Elizabeth was an immense help. She easily answered all of the questions I had about celiac disease, nutritional deficiencies, and supplementation.

During this time, I also had the pleasure of meeting Brian Dean, a registered dietitian with a Masters degree in nutrition. Brian was a tremendous resource in helping me understand the impact of celiac-induced malabsorption and the nutrients that I may be deficient in due to the absence of the major cereal grains from my diet.

After researching the issue extensively and consulting regularly with Elizabeth and Brian, it became obvious that there were steps beyond a gluten-free diet that people with celiac disease should take to improve their health. More specifically, those with celiac disease should add essential nutrients to their diet in order to optimize their health and augment their gluten-free diet. These supplements fall into five major categories, summarized below.
Full Spectrum Multivitamin
Above all else, it is imperative that people with celiac disease take a multivitamin. One of the primary manifestations of celiac disease is nutrient malabsorption. Intestinal villi become damaged during the immunological response to gluten ingestion, blunting nutrient absorption. Even after following a gluten-free diet normal absorption may never fully resume. In fact, a study done by Hallert et al showed that more than half of celiac patients who had been following a gluten-free diet for over 10 years still showed a higher total plasma homocysteine level than the general population, indicating B vitamin deficiencies(1). A celiac-specific multivitamin must contain the fat-soluble vitamins (A, D, E and K) and B-complex vitamins. Most importantly, it must include the anti-anemics of folic acid, vitamin B-12, and iron since anemia is one of the most common complications in people with celiac disease(2). 
Bone Density Support 
Another potential complication in both adults and children with celiac disease is an increased risk of low bone density. A recent study showed that 40% of newly diagnosed patients with celiac disease have osteopenia (reduced bone mass, but not severe enough to be classified as osteoporosis) and 26% have osteoporosis(3). This phenomenon occurs for a number of reasons. Firstly, calcium —the most critical bone-building nutrient— is not properly absorbed in people with celiac disease. Further, a significant portion of people with celiac disease are also lactose intolerant, limiting their ability to ingest calcium-rich dairy products.
However, calcium alone is not enough for optimal bone health. Vitamin D supplementation is critical due to its role in calcium absorption and utilization. It has been shown that Vitamin D increases calcium absorption by as much as 80%(4).  Another critical nutrient that should be included in any bone density-enhancing supplement is magnesium. Magnesium enhances calcium supplementation, as it's used by the parathyroid gland to regulate calcium metabolism. Without magnesium, calcium is excreted from the body and not retained to perform its essential functions. Several studies have shown that magnesium deficiency alters calcium metabolism and the hormones that regulate calcium(5). 
Intestinal Healing / Strenghtening Nutrient
Intestinal damage is a hallmark sign of celiac disease. It's well understood that villus atrophy caused by the autoimmune-mediated response to gluten is the underlying cause of poor nutrient status commonly seen in the celiac disease population. However, a gluten-free diet is insufficient for intestinal repair. Ciacci et al reports that more than half of diagnosed and treated celiac disease patients have clinically damaged intestines, as determined by biopsy. In addition, 23% of cases were determined to have severe intestinal damage(6). Furthermore, in a recent study conducted by the Mayo Clinic, it was found that only 37% of subjects showed mucosal recovery after two years on a gluten-free diet. After five years, this number increased to just 66%(7). Fortunately, there are a number of nutrients that can be supplemented to promote the healing of the intestinal lining. These nutrients include zinc, glutamine, and citrus bioflavonoids, among others.
Probiotics
Dr. Alessio Fasano of the University of Maryland's Celiac Disease Center believes that probiotics may one day provide a cure for celiac disease(8). While this technology does not yet exist, probiotics have already been used to treat many illnesses and diseases pertaining to the human digestive system including irritable bowel diseases, intestinal infections, and celiac disease(9).
Celiac disease patients are vulnerable to dysbiosis, an imbalance of bacterial strains in the gut. In a study of gut microflora in patients both with and without celiac disease, researchers determined that patients with celiac disease have a much higher total and gram negative bacteria count. Bacteroides and E. coli were significantly more abundant in celiac disease patients with active disease, while those with inactive disease and those without celiac disease exhibited a much higher ratio of probiotic bacteria(10). In a literature review, Salminen et al determined that probiotics are clinically effective treatments for disorders of the gut stemming from dysbiosis(11).
In a recent study by Lindfors et al it was concluded that the live B. lactis bacteria may directly counteract the harmful effects of gluten(12). A 2010 study published by De Palma et al found that the use of probiotics significantly reduced intestinal inflammation of celiac disease affected cells in vitro(13).
Enzymes
Pancreatic exocrine insufficiency (reduced pancreatic enzyme secretion) is a consequence of many diseases of the pancreas, as well as extrapancreatic diseases like celiac disease(14). Pancreatic enzymes are essential in the digestive process(15). Supplementation of these enzymes aid in the breakdown of fats, proteins, and carbohydrates. The benefit of pancreatic enzyme supplementation is clinically significant for people who have compromised digestion, such as celiac disease patients(16).
Chronic diarrhea is a common symptom of celiac disease patients(17). A study done by Leeds et al examined the effect of pancreatic enzyme supplementation in celiac disease patients with chronic diarrhea. The authors concluded that supplementation of pancreatic enzymes significantly reduced the frequency of diarrhea(15).
Pancreatic enzymes are beneficial to patients with celiac disease because they are among the most potent digestive aids available. They help break down food, allowing for further absorption of nutrients. Also, they have anti-inflammatory properties that provide significant benefits to the digestive tract(18). 
Conclusion
Following a strict gluten-free diet is of utmost importance for people with celiac disease. However, there are additional steps that people with celiac disease should take to optimize their health. Since no medications are currently available, the best alternative is supplementation. It is my hope that others will be able to benefit from this ongoing research and that they will decide to take their health back into their own hands.
References
1.    Hallert C et al Evidence of poor vitamin status in celiac patients on a gluten-free diet for 10 years. Alimentary Pharmacology Therapeutics. 2002;16:1333-1339.
2.    Nelson DA. Gluten-sensitive enteropathy (celiac disease): more common than you think. American Family Physician. 2002;66:2259-2266.
3.    See J and Murray JA. Gluten-free diet: the medical and nutrition management of celiac disease. Nutrition in Clinical Practice. 2006;21:1-15.
4.    Adams S and Hoggan R. Cereal killers: celiac disease and the gluten-free a to z. Waterworks and Celiac.com. 2010.
5.    NIH. Magnesium. Office of Dietary Supplements. 2009. http://ods.od.nih.gov/factsheets/magnesium.asp
6.    Ciacci C, Cirillo M, Cavallaro R, Mazzacca G. Long-term follow-up of celiac adults on gluten-free diet: prevalence and correlates of intestinal damage. Digestion. 2002;66:178-85.
7.    Rubio-Tapia A et al Mucosal recovery and mortality in adults with celiac disease after treatment with a gluten-free diet. American Journal of Gastroenterology. 2010;105:1412-1420.
8.    Fasano A. Surprises from Celiac Disease. Scientific American. 2009;301(2):54-61. 
9.    Mennigen R and Bruewer M. Effect of probiotics on intestinal barrier function. Annals of the New York Academy of Sciences. 2009;1165:183-189.
10.    Nadal I et al Imbalance in the composition of the duodenal microbiota of children with celiac disease. Journal of Meicald Microbiology. 2007;56:1669-1674.
11.    Saavedra JN. Clinical applications of probiotic agents. American Journal of Clinical Nutrition. 2001;73:S1147––S1151.
12.    Lindfors K, Blomqvist T, et al Live probiotic bifidobacterium lactis bacteria inhibit the toxic effects induced by wheat gliadin in epithelial cell culture. Clinical and Experimental Immunology. 2008;152:552-558.
13.    De Palma G, Cinova J, et al Pivotal advance: bifidobacteria and gram-negative bacteria differentially influence immune responses in proinflammatory milieu of celiac disease. Journal of Leukocyte Biology. 2010;87:765-778.
14.    Dominguez-Munoz JE. Pancreatic enzyme therapy for pancreatic exocrine insufficiency. Current Gastroenterology Reports. 2007;9:116-122.
15.    Malterre T. Digestive and nutritional considerations in celiac disease: could supplementation help? Alternative Medicine Review. 2009;14:247-257.
16.    Roxas M. The role of enzyme supplementation in digestive disorders. Alternative Medicine Review. 2008;13:307-314.
17.    U.S. Department of Health and Human Services. Celiac disease. National Digestive Diseases Information Clearinghouse. September 2008.
18.    Britton RS, Leicester KL, Bacon BR. Iron toxicity and chelation therapy. International Journal of Hematology. 2002 Oct;76(3):219-228.