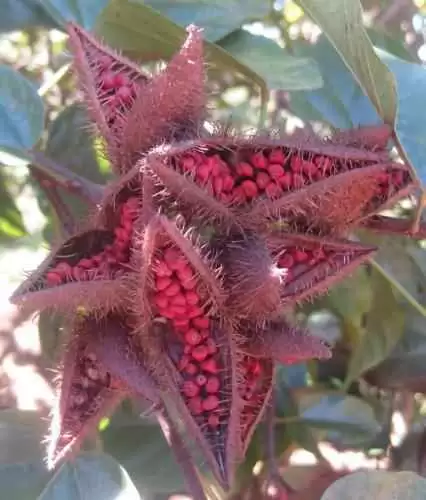 Caption: Annatto color is derived from the seeds of the Achiote. Photo: CC--Ton Rulkens
Celiac.com 02/03/2018 - People with celiac disease need to avoid consuming products that contain gluten, including those made with wheat, rye and barley.
So, what about Annatto color? You may know annatto color as one of those common ingredients in food. Annatto color is used to color yellow or orange cheese. To make matters more confusing, annatto color still appears on some old, outdated lists as not gluten-free, and unsafe. Many of these listings of supposedly problematic ingredients were based "solely on guesses and suspicions." As such, they commonly promoted incorrect or incomplete information.
Annatto color is gluten-free and generally safe for people with celiac disease on a gluten-free diet. Some people with celiac disease do claim sensitivity to annatto color, but they are likely not reacting to gluten.
Annatto color appears on Celiac.com's list of safe and gluten-free foods.
Here's a helpful bit by a member Celiac.com's gluten-free forum, named Richard: "Annatto is gluten-free. Without question. I suspect your info came from CSA/USA, which for years put out bad information about ingredients based solely on guesses and suspicions."
For years, some celiac organizations warned members that annatto might cause gluten-like reactions. They cited concerns about the "processing of the seed into a colorant that causes concern as it appears to use alcohol in the process. There is also suspicion that caramel color may be included in the annatto colorant. Anecdotal evidence has some celiacs reacting to foods with annatto color in them but this may be a non-celiac reaction to the annatto itself."
So, the shorthand is that annatto coloring is gluten-free and generally safe for people with celiac disease. Folks who cannot tolerate annatto coloring are not reacting to gluten, but to something else.