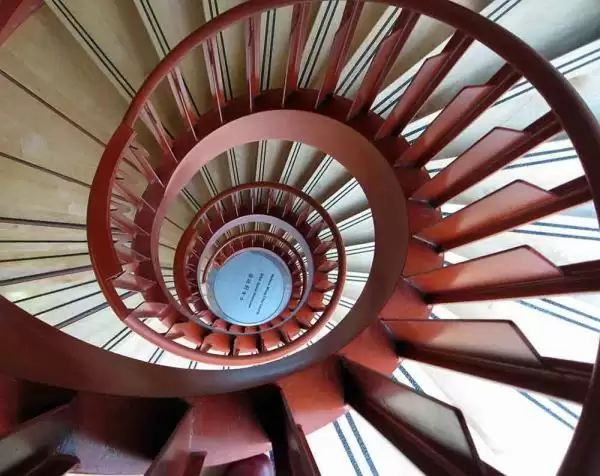 Caption: DNA Spiral Staircase. Image: CC--Ruth Hartnup
Celiac.com 02/22/2019 - Celiac disease, an autoimmune reaction caused by exposure to gluten, a protein found in wheat, barley, and rye, is estimated to affect one in a hundred Americans, however, only three percent of the celiac population has yet been properly diagnosed. The diagnostic process usually requires several tests, including antibody blood tests and a biopsy of the small intestine. Antibody testing is usually the first step, and positive biopsy results are required for the diagnosis of celiac disease, while genetic testing is often used as a preliminary test to determine whether an individual is at risk of developing celiac disease. Studies are showing, however, that celiac genetic test results may not always be accurate.
According to the University of Chicago Celiac Disease Center, genetic testing has a couple of uses. After an individual tests positive for the disease, his relatives can be given the genetic test in order to determine if they are at risk of developing the disease later on. Secondly, it is used to help diagnose individuals who are already on a gluten-free diet, for whom an intestinal biopsy would be useless because there would be no damage to assess without gluten exposure.
Gastroenterologist Dr. Lewey, who published an article on Celiac.com entitled, "Ten Facts about Celiac Disease Testing," reports that studies by Dr. Ken Fine of Enteroloab have indicated that just because DQ2 and DQ8 are absent doesn't mean that there is no risk for gluten intolerance or sensitivity. Another study has indicated that the absence of DQ2 and DQ8 doesn't exclude risk of the celiac disease, particularly among men.
According to Dr. Lewey, "The absence of any portion of the high-risk genetic patterns DQ2 and DQ8 nearly excludes the possibility of celiac disease with an approximate accuracy of 99.9%. However, there is a big caveat about relying on 'negative celiac genetic testing'." In order to accurately establish that there is no celiac genetic factor, very complex genetic testing would have to be performed, which Dr. Lewey says is "complicated and difficult to understand even by physicians and scientists."
Despite the small chance of false negatives in celiac genetic testing, it is widely considered reliable. Carol Shilson, the executive director of the University of Chicago Celiac Disease Center, says, "The gene test, performed at a reliable lab, is very accurate," Furthermore, the gene test results aren't affected by environmental variables such as diet, which isn't the case with other tests such as antibody blood tests and the intestinal biopsy.
      
According to Dr. Lewey, celiac disease is arguably the most common of the autoimmune diseases, calling it "very common," yet at the same time the diagnosis rate is alarmingly low. The celiac community currently has an effective arsenal of tests for the diagnostic process in order to turn this statistic around. Genetic testing, despite the fact that it may not be 100% accurate, appears nevertheless to be generally reliable. It has helped many people determine their own and their children's risk of developing celiac disease.
Resources: