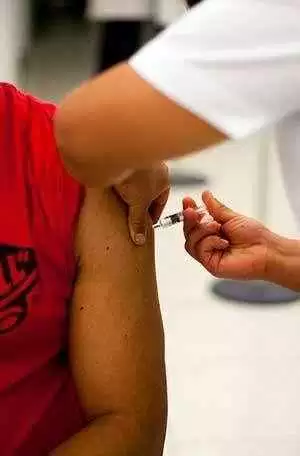 Caption: Photo: CC--@alviseni
Celiac.com 06/19/2013 - Currently, immunosuppressant drugs are the only real treatment option for most autoimmune disorders, such as celiac disease and Type 1 diabetes.

However, researchers are busily exploring the possibilities offered therapeutic vaccines, known as antigen-specific immunotherapy. ImmusanT is one company working to develop a vaccine that will allow patients with celiac disease to safely eat gluten (the antigen). That vaccine is presently undergoing clinical trials.
In Current Opinion in Immunology, researchers Bob Anderson and Bana Jabri describe how identification of pathogenic T cell epitopes (segment of the antigen) and recent initiatives to optimize immune monitoring have helped drive rational vaccine design in human autoimmune diseases.
Celiac disease has provided researchers with the first opportunity to design and test epitope-specific immunotherapy with a thorough understanding of disease-causing T cell epitopes.
This approach offers "truly customized immunotherapy for patients with celiac disease according to their genetics and the molecular specificity of their immune response to gluten," said Bob Anderson, PhD, MBChB, Chief Scientific Officer of ImmusanT.
Because celiac disease shares key features, such as susceptibility genes, presence of autoantibodies and destruction of specific cells, with other autoimmune disorders, like Type 1 diabetes and rheumatoid arthritis, it provides a model for understanding and exploring the triggers and drivers of autoimmunity, in general, write Drs. Bana Jabri and Ludvig Sollid in the Perspectives section in Nature Reviews Immunology.
By factoring in the association with the major histocompatibility complex (MHC), post-translation modifications, the antigen and the tissue, researchers can design methods that help to the spot potential drivers of autoimmune disease.
Because peptide-specific therapy specifically targets the immune cells that drive the disease process, "it offers the potential to prevent and cure disease, without inducing general immunosuppression," said Bana Jabri, MD, PhD, Director, University of Chicago Celiac Center; Professor, Department of Medicine, Pathology and Pediatrics, University of Chicago; and Senior Scientific Advisor to ImmusanT.
Ludvig M. Sollid, MD, PhD, is Director, Centre for Immune Regulation; Professor of Medicine, Department of Immunology, University of Oslo; Consultant, Oslo University Hospital-Rikshospitalet; and member of ImmusanT's Scientific Advisory Board.
Dr. Jabri is Co-Chair of the 15(th) International Celiac Disease Symposium to be hosted by the University of Chicago Celiac Disease Center, September 22-25, 2013.
The event will draw the world's top scientists and physicians to discuss the most recent scientific advances in managing and treating celiac disease and gluten-related disorders.