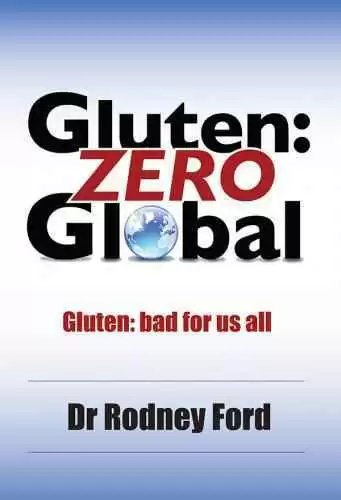 Celiac.com 07/27/2017 - It was five years ago when I launched the concept of "gluten is bad for us all!"
Yes, you read that right - bad for you, bad for me, and bad for everyone else! This implies that the whole world should avoid gluten.
This is a bold and an unrealistic statement to make. However, I thought that there was enough evidence about the harm of gluten for us to demand massive changes to everyone's diet, our farming practices and food manufacturing industry. Eventually, this could substantially improve the health of our Nations. However the practicalities of such a change would be very difficult overcome. Especially with the economic forces of Big-Pharma, Big-Agriculture and Big-Government.
---
Celiac.com Sponsor (A12):


---
---
Celiac.com Sponsor (A12-m):


---
I was not alone in thinking this. Many other medical/health professionals had also reached this conclusion with the growing research evidence of gluten-related diseases. Five years ago the top 15 celiac-doctors acknowledged that gluten-related-illness was a common problem that needed much better diagnostic tests. In their landmark paper "Spectrum of gluten-related disorders: consensus on new nomenclature and classification." http://www.biomedcentral.com/1741-7015/10/13, they concluded: "all individuals, even those with a low degree of risk, are susceptible to some form of gluten reaction during their life span."

This publication was later expanded into a book. The description of this book is: "A Clinical Guide to Gluten-Related Disorders provides primary health care providers the succinct material they need to immediately evaluate and support their patients. Gluten-related disorders have a wide presentation, and this text covers the recognition, evaluation, and multi-disciplinary approach to the management of disease. Readers will benefit from the general overview of gluten intolerance and from the common sense approach to developing treatment and dietary plans. Clinical vignettes offer clinicians real-life scenarios to help put the disease and its treatment in context for their patients."

I predicted, that in another generation, gluten will be rejected by most reputable food processing companies. This will be a difficult concept for many people to accept because wheat products are currently the very foundation of our diet. After 10,000 years of eating gluten grains it comes as a huge shock that our staple food has been demonstrated as harmful.

Over the last five years I continue to see children and families made very unwell by eating gluten grains. It is also likely that that gluten may not be the sole culprit, as there are other wheat proteins that are toxic to humans. However, a gluten-free diet will eliminate these other wheat proteins.

I have just seen Caleb who is 10 years old and was referred to me three months ago because of generalised intermittent abdominal pains. These pains come and go, but trouble him on most days of the week. These pains sometimes Bring him to tears, and on occasions he has presented to the emergency department at the hospital with severe abdominal pain. The usual investigations did not show up any specific abnormality, and his scans and x-rays for all within normal limits, other than showing that he had some constipation.

He had also been suffering from sore throats and gastric reflux has been implicated, for which he was prescribed Omeprazole.

In addition, he was not putting on much weight.

My concluding remarks about him were "It is possible he is gluten intolerant. This could explain all of his symptoms (abdominal pain, constipation, gastric reflux, and tiredness). His mother has irritable bowel and has previously benefited from a gluten-free diet. I recommend that Caleb go on a three month trial of a gluten-free diet. His parents will let me know of his progress in three months time."

Well, I've just seen him again following his three-month gluten-free trial. Mum said "what a difference! He now has regular bowel motions without the need for Macrogol, he no longer has abdominal pain and his reflux has disappeared and he is no longer needing Omeprazole. In addition he is growing again. With gluten infringements he gets a sore tummy, sore throat with some reflux and constipation again."

It has taken Caleb a while to get into the swing of things. He still will eat gluten foods if he has the opportunity! He has to pay the consequences with his symptoms. He is also growing again. I am thrilled with his progress. He needs to stay gluten-free for the long haul. He needs to be as close to gluten zero as possible. He is lucky that both of his parents have joined him on his gluten-free diet. His mother is a lot better and has lost substantial weight, his dad also feels a lot more healthy on a gluten-free diet.

Caleb is just one of millions of children who are currently suffering from guilty related diseases, but un-diagnosed and un-recognized.

Yes, it was five years ago when I launched the concept of "gluten is bad for us all!" I have not change my opinion. Indeed, I am more confident about what I have written about the harm that gluten has caused throughout the world. I looked the 8 following questions. I wonder what your opinion might be:

1. Why pick on Gluten?
10 decades of Celiac; 10 years of Gluten Syndrome; 10 months of ZERO gluten.

2. Why is gluten so bad for us all?
Cannot digest it; gut leaky; toxic proteins.

3. Why are there so many sick people?
"Nobody knows what's wrong with me." Old technology for modern disease.

4. How much illness can be attributed to gluten?
The catalogue of gluten-illness. Health burden of gluten.

5. Can gluten really damaged brains and nerves and minds?
Brain symptoms, nerve damage, mental disorders.

6. What other illnesses might be linked to gluten?
Auto-immune diseases.

7. Should we really change what we eat?
Diet - not Drugs. The alternative grains. Health-giving foods.

8. How can we feed 7 billion people
Is bad food better than no food?

Dr Ford's book is available as an e-book:
Gluten: ZERO Global (http://www.glutenZEROglobal.com)
Gluten is bad for us all – the evidence for a gluten free planet.
Warning: go gluten free now before it is too late.

Written in the spirit of cooperation and knowledge sharing.