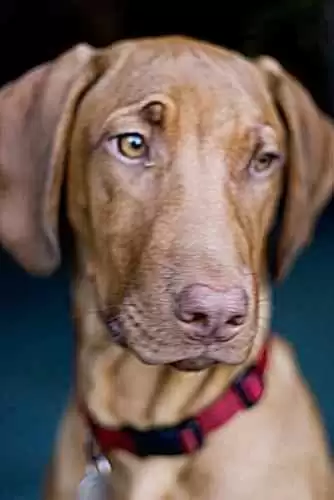 Caption: Is gluten-free or grain-free food right for your dog? Photo: CC--Andre Hagenbruch
Celiac.com 08/04/2016 - With all the hype about gluten-free diets going around, it's only natural that dog owners might wonder about potential benefits of a gluten-fee diet for their pet. Before rushing out and spending money on a bunch of new gluten-free grub for Fido, it's wise to first ask a few questions.
First, figure out whether the dog is sensitive to gluten from wheat, barley, oats or rye, or if the dog is sensitive to grains including soy and corn. It's also possible that the dog has no sensitivities to the current food.
---
Celiac.com Sponsor (A12):


---
Most dogs do not suffer from celiac disease, so a gluten-free diet is not necessary, nor will it be likely to improve the dog's health in any way. There are, however, some important exceptions. For example, Irish setters and dogs with Irish setter genetics can suffer from hereditary gluten intolerance. Gluten-sensitivity affects only a minority of Irish setters, but it does exist, and it's important to address in pets with symptoms.

Gluten sensitivity is also a factor in epileptoid cramping in Border Terriers, so be on the lookout if your Border Terrier suffers from epilepsy-like cramping or seizures.

While any dog may develop food sensitivities, some breeds are more predisposed than others. Boston terriers are often allergic to products containing corn or gluten, resulting in skin issues, or atopic dermatitis. Switching to a corn-free, wheat-free food can lead to significant improvements.

The main point to remember is that even gluten-free dog food, with no wheat, barley, oats or rye, can still contain soy or corn, while many dog foods labeled as 'grain-free' happen to also be gluten-free.

Dog foods that omit grains often contain other high-carbohydrate ingredients, such as sweet potato or tapioca. Whether grain intolerance, or gluten-intolerance is the problem, it is important to read the dog food label, and to slowly and carefully test out any new foods before switching over completely.

Also, even though some dogs are allergic to grains, other ingredients, especially beef and dairy, are far more likely to trigger allergic skin reactions.

Here are some top dog-food brands that offer gluten-free options that contain ingredients less likely to cause allergies. Remember, dogs have individual tastes and preferences. Some dogs will prefer and do better with some foods than others, no matter how highly rated the food. Obviously let your dog help guide you on this.

A dog's needs also vary according to life stage. When you change dog foods, do so over a period of several days. So, it's best to try small samples at a time, and make the full switch to a new food slowly. Even the best new food may upset a dog's digestive system if it's not given time to adjust.

Choosing the wrong food for your dog, or forcing a change too quickly can leave both you and the dog unsatisfied. That may be why even the highest quality dog foods can have unsatisfied customers posting poor reviews of a particular item.

To help you with your search, here's a list of Top Ten Grain Free Dog Food Brands from Heavy.com.

Here's a list of Top Five Grain Free Dog Food Brands from thealternativedaily.com.

Here's the list of best Brands of Canned Grain-free Dog Foods, including tubs or cups, according to dogfoodadvisor.com.

Lastly, here's a list of best Brands of Dry Grain Free Dog Foods, including dehydrated or freeze-dried, according to dogfoodadvisor.com.