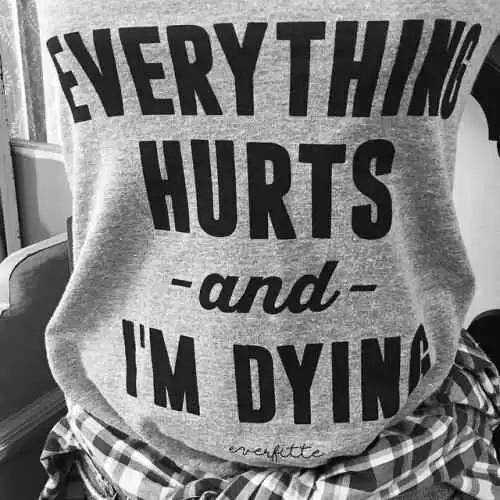 Caption: This t-shirt sums up common feeling of fibromyalgia sufferers. Photo: CC--Forsaken Fotos
Celiac.com 04/10/2017 - Fibromyalgia syndrome is a debilitating condition of unknown cause, and only treatment approaches at present offer only limited relief from symptoms. Some fibromyalgia sufferers seem to benefit from a gluten-free diet, but there's not a great amount of data on the benefits of a gluten-free diet in fibromyalgia sufferers who do not have celiac disease.
A team of researchers recently set out to describe 20 selected patients with fibromyalgia, but without celiac disease, whose symptoms improved when they followed a gluten-free diet. The research team included Carlos Isasi, Isabel Colmenero, Fernando Casco, Eva Tejerina, Natalia Fernandez, José I. Serrano-Vela, Maria J. Castro, and Luis F. Villa.
---
Celiac.com Sponsor (A12):


---
---
Celiac.com Sponsor (A12-m):


---
They are variously associated with the Department of Rheumatology, Hospital Puerta de Hierro, Majadahonda Madrid, Spain; the Department of Pathology, Hospital Infantil Niño Jesús, Madrid, Spain; the Department of Pathology, Hospital Puerta de Hierro, Majadahonda Madrid, Spain; the Department of Gastroenterology, Hospital Puerta de Hierro, Majadahonda Madrid, Spain; the Celiac and Gluten Sensitive patients Association of Madrid, Madrid, Spain; and with the Department of Immunology, Hospital Doce de Octubre, Madrid, Spain.

What researchers now call non-celiac gluten-sensitivity is a daily common, yet treatable condition, with a range of symptoms that dovetail with many symptoms of fibromyalgia, including chronic musculoskeletal pain, asthenia, and irritable bowel syndrome.

All patients underwent anti-transglutaminase assay, duodenal biopsy, and HLA typing. To rule out celiac disease in their test subjects, the research team used negative anti-transglutaminase assay results, together with the absence of villous atrophy in the duodenal biopsy.

All patients showed signs of intraepithelial lymphocytosis with no villous atrophy. The doctors defined a positive clinical response as the achievement of at least one of the following: remission of fibromyalgia-associated pain, return to work, return to normal life, or the discontinuation of opioids. Doctors followed on the patients from 5 to 31 months, with a follow-up period of 16 months, on average.

The level of widespread chronic pain improved dramatically for all patients; for 15 patients, chronic widespread pain was no longer present, indicating remission of FM. Fifteen patients returned to work or normal life. In three patients who had been previously treated in pain units with opioids, these drugs were discontinued. Fatigue, gastrointestinal symptoms, migraine, and depression also improved together with pain. Patients #2 and #3, both with oral aphthae, went into complete remission for psoriatic arthritis and undifferentiated spondyloarthritis.

These results strengthen the idea that non-celiac gluten sensitivity may play a key role in the development of fibromyalgia syndrome.

Source: