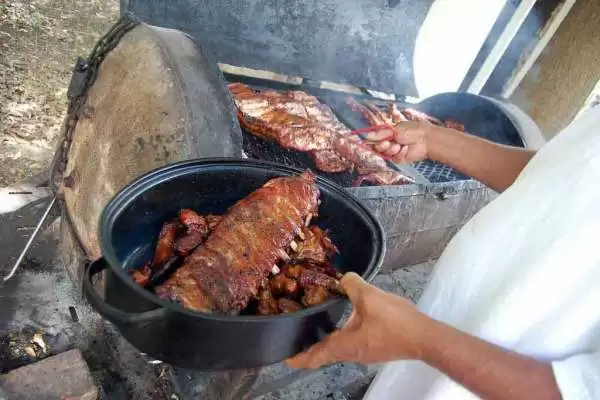 Caption: It's best to get your smoked flavor the old fashioned way. Image: CC BY 2.0--Southern Foodways Alliance
Celiac.com 08/29/2020 (Updated on 09/09/2020) - According to the FDA the term "Natural Flavoring" defines a broad group of things that can be used in foods to give them more flavor:
"(3) The term natural flavor or natural flavoring means the essential oil, oleoresin, essence or extractive, protein hydrolysate, distillate, or any product of roasting, heating or enzymolysis, which contains the flavoring constituents derived from a spice, fruit or fruit juice, vegetable or vegetable juice, edible yeast, herb, bark, bud, root, leaf or similar plant material, meat, seafood, poultry, eggs, dairy products, or fermentation products thereof, whose significant function in food is flavoring rather than nutritional. Natural flavors, include the natural essence or extractives obtained from plants listed in subpart A of part 582 of this chapter, and the substances listed in 172.510 of this chapter."
For those with celiac disease, natural flavoring is considered to be gluten-free, and if wheat, rye or barley were used to make the natural flavoring it would need to be disclosed on the ingredient label in foods that are labelled "gluten-free." If wheat were used to make natural flavoring it would always need to be disclosed, even on products not labelled gluten-free. For those with serious allergies there are additional concerns about the many ingredients that can be used to make natural flavoring, and because many other foods can be used in combination with these ingredients to make them: "...they consist of one or more of the following, used alone or in combination with flavoring substances and adjuvants generally recognized as safe in food, previously sanctioned for such use, or regulated in any section of this part."
---
Celiac.com Sponsor (A12):


---
---
Celiac.com Sponsor (A12-m):


---
"Natural flavors" are a common name for Monosodium glutamate (MSG), which is itself a trade name for sodium hydrogen glutamate. MSG is gluten-free and safe for people with celiac disease. MSG appears on Celiac.com's list of Safe Gluten-Free Ingredients, and plenty of people have no problems when eating MSG.
MSG Can Cause Reactions in Some People
In some people, MSG can cause adverse reactions, with symptoms including, facial numbness or pressure, heart racing, chest pain, nausea, vomiting, headache, sweating, wheezing or burning sensations. For this reason, many people, both with and without celiac disease, prefer to avoid MSG. 
Other names for Natural Flavorings include:
Artificial Flavoring
Artificial Flavors
Flavoring
Natural Flavoring
Natural Flavors
Natural Smoke Flavor
In addition to "natural flavors," other names for MSG include:
Flavoring
Natural Flavor
Natural Flavorings
Natural Beef Flavor
Natural Chicken Flavor
Natural Beef Flavor
Chicken Flavoring
Seasoning
Spices
Enzymes 
Source: