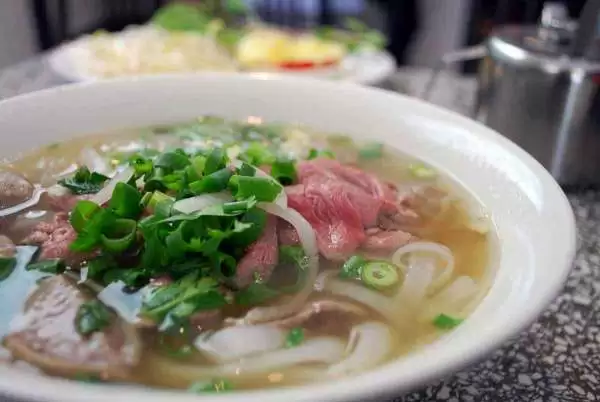 Caption: Beef Pho. Image: CC BY-SA 2.0--avlxyz
Celiac.com 02/16/2021 - We get a lot of questions about various foods and dishes. One question we've seen a lot is about Phở, or Pho, as in the famous Vietnamese soup. More than a few of our readers want to know if Phở is gluten-free and safe for people with celiac disease.
The short answer is that Phở is almost always gluten-free. The broth, rice noodles and vegetables are usually safe for people with celiac disease.
---
Celiac.com Sponsor (A12):


---
---
Celiac.com Sponsor (A12-m):


---
For the uninitiated, Pho or Phở is a Vietnamese soup containing broth, rice noodles (bánh phở), herbs, and beef, called phở bò, or sometimes chicken, called phở gà. 

Phở gà, or chicken Phở is a soup of fragrant broth, tender chicken, chewy rice noodles, and topped with aromatic herbs, vegetables, and other condiments. 

While beef Phở is the national dish of Vietnam, both beef and chicken Phở are much loved and eaten regularly by people across Vietnam. Phở can be eaten as a snack, or as a meal, for breakfast, lunch or dinner. 

We recently did a recipe for traditional Vietnamese chicken pho soup with soft-boiled egg, that is both delicious and nutritious.

Choose Gluten-Free Condiments
Phở is almost always served with a variety of condiments, including bean sprouts, cilantro, Thai basil, mint sprigs, scallions, and saw-tooth leaves, bird's eye chilis, sliced jalapeño peppers, hoisin sauce (make sure it's gluten-free), Sriracha (Rooster) Sauce, and lime wedges.

You definitely want to avoid ordering egg noodles with your Phở, and another thing to make sure of is that they do not boil the rice noodles in same pot as they do egg noodles or other things that might not be gluten-free.  

So, the takeaway is that Phở is typically gluten-free and safe for people with celiac disease. Just be careful about what gets added and how they cook it. As always, avoid any ingredients you're not sure about.