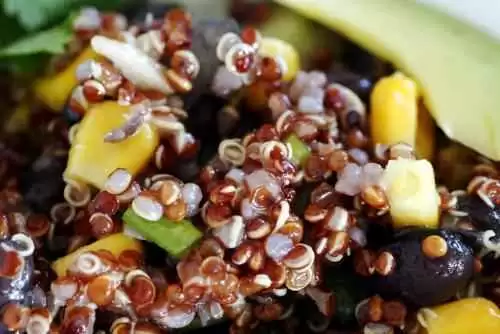 Caption: Quinoa, as seen in the salad, is generally safe for people with celiac disease. Photo: CC--Stacy Spensley
Celiac.com 11/15/2017 - Quinoa is regarded as safe for people with celiac disease. For many years, some celiac support groups listed quinoa as unsafe due to cross-contamination concerns. But any grain is unsafe for celiacs if it is contaminated with wheat, rye or barley. Some grains have a higher risk of such contamination, others have a low risk.
Based on its low risk for cross-contamination, Celiac.com has had quinoa on our safe list since 1995. A vast amount of evidence supports that listing.
---
Celiac.com Sponsor (A12):


---
The latest research shows that celiac patients can safely tolerate up to 50 g of quinoa daily for 6 weeks. The researchers in this test point out that further studies are needed to assess long-term effects of quinoa consumption. In the short-term test, the researchers looked at 19 treated celiac patients who ate 50 g of quinoa every day for 6 weeks as part of their regular gluten-free diet.

The team evaluated diet, serology, and gastrointestinal parameters, and made histological assessments of 10 patients, both before and after they consumed quinoa. The results show that celiac patients seem to tolerate quinoa well, and it doesn't trigger any symptoms or cause any gut damage or dysfunction. The team found normal gut structure and mucosa to confirm that assessment.

In fact, patients saw a general improvement histological and serological results, so better gut conditions and less blood antibodies to gluten in patients who ate quinoa. Celiac patients who ate quinoa for 6 weeks also experienced a mild reduction in blood pressure.

Overall, this is the first clinical study to show that celiac patients can safely tolerate up to 50 g of quinoa daily for 6 weeks.

Obviously, future studies need to look at the safety of long-term quinoa consumption. That said, quinoa seems to be safe for celiac patients on a gluten-free diet.

If you really want to be sure, quinoa grown in main producer countries of Bolivia, Peru and Ecuador, where practically no wheat is grown, is probably the safest bet for those on a gluten-free diet.